Fin Clip Samples Needed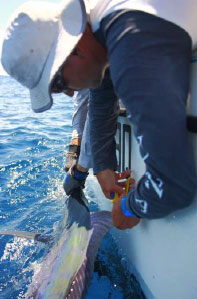 University of Queensland Honours student Sam Williams, working closely with Dr Julian Pepperell, is hoping to compare the genetic 'fingerprints' of black marlin from eastern and western Australia to determine if there are breeding populations on both sides of the continent and/or reveal if there is movement of fish between the Pacific and Indian oceans.
For this project to be successful they need lots of fin clips to extract DNA from juvenile or sub-adult fish (up to approx 50kg) caught from both coasts and are asking all fishers to get involved.
Please read this bulletin which explains not only how to take and store the samples (pictured), but also what to do once you have them.
Members of the Sunshine Coast Game Fishing Club were the first to take part in the
sampling and have provided 30 fin clips from December 2012 to May this year, while Ben Bright notched up 24 samples over in Weipa (21 sails and 3 blacks – the sail clips to be used in a future study) in 2012/13 season.
The 2013/14 season has just begun, with JCU marine biology student Nick Hill, fishing with Capt. Jim Dalling on Billy the Kid leading the charge with 5 fin clips from Townsville while there have been a few more samples from Cairns, Weipa, Broome, Dampier and Exmouth as well.
Any further questions can be directed to Dr. Julian.
More Juvie Black Marlin Action
While there have been a few more black marlin reported this week from both Townsville and Cairns, I received these great pics from Renee from on board Reel Crazy off Townsville on Sunday (although Renee was landbound and missed the action herself). Renee said after a quiet start to the day, they left the fish biting with a hot afternoon bite resulting in a 6-4-4. Its just one week now until the Townsville Billfish Challenge kicks off so look out for plenty more reports (and it you're not already entered – get in now!)