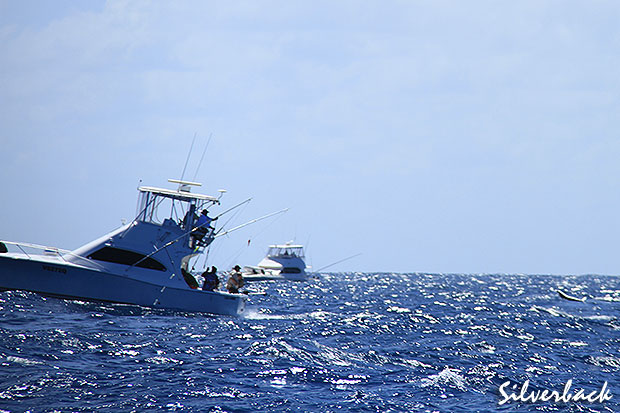 There were a few more hotspots around on Day 2 which spread the fleet across the grounds off Bowling Green.  The Gough, Kane and Davidson Luhrs Silverback with Capt. Laurie Wright at the helm for the tournament sped into contention. After an unlucky Day 1 which saw them lose two fish in relatively quick succession, they made up for it with two early fish on the first sked, and brought it home with two more on the last sked to put them on four tags.
Likewise for the team on Levante who tagged the first marlin and sailfish of the day and now sit on four as well. Meanwhile, Capt. Jim Dalling on Billy The Kid is showing you can never count him out on his 'home' grounds of Bowling Green as he added another three to put him on four tags too.
But at the top of the leaderboard, Hot Tomolly outgunned everyone (I mentioned on twitter yesterday morning that they had recorded a late tag on Day 1 out of radio range to put them on two for the day). Beginners luck is certainly with them and they are probably wishing they started fishing years ago, adding four tags on Day 2 to put them on 6 tags overall and in the lead.
Always consistent, the O'Brien family team on OB1 also added 3 tags on Day 2 to put them on 5 tags in total and in second place.
Lots of other boats caught firsts and others added to their tallies as 28 tags were recorded on Day 2 with a few boats in contention just behind the leaders on 3 tags as well.
I should point out that I have corrected some of my boat name spellings now that I've had a chance to see the club's leaderboard in port at the 'return to port' party last night. Yes, that's really how they spell Hot Tomolly and its beats me how Team Makaira came across as Team Macabre! ;-)