The shotgun start (from which Billy The Kid smoked the entire fleet on the run to the marlin grounds).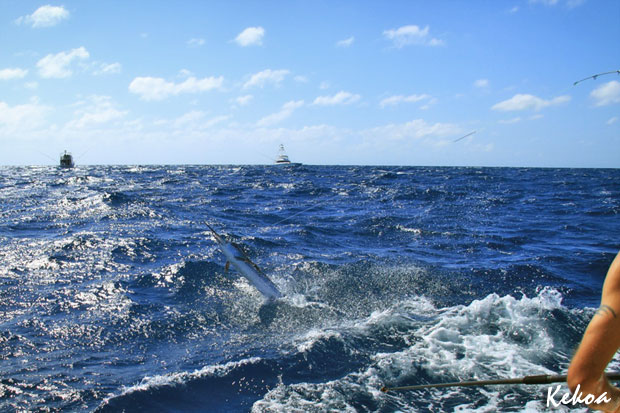 KEKOA kicked off the point scoring with the first marlin of the tournament for major sponsors Mike Carney Toyota and angler Chris Carney (above). But this was to be the only fish reported on the first sked in a slower than expected start. But soon after a flurry of fish we seen flying across the surface including the first sailfish for Jeannette Shi on Castille III.  Last year's big boat winners, the O'Brien family on OB1 took the lead for the second sked with two sailfish tags – both of which they were able to feed live baits to while hooked up to a mackerel!
The trailer boat Y Knot were also hooked up and fighting a black and racing amongst the fleet before the second sked. Catching a second later in the day, they join OB1 at the top of the leaderboard and were one of a couple in the small boat category to get points on the board. Hopefully the weather hangs in there for a bit longer!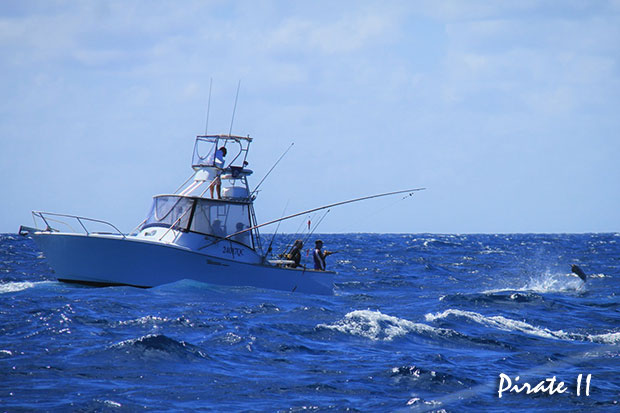 Fishing Day 1, I recorded 30 boats fishing with 14 tags amongst them as follows: Leading on two tags OB1 and Y Knot.  On one one tag each on countback, KEKOA, Castille III, The Chapel, Maverick, Pirate II, Reel Crazy, Team Makaira (which is Capt. Chris "Sharky" Miles' team from Kanahoee fishing on Levante due to engine issues), Billy The Kid, Hot Tamolly and Annie B.
I'm tweeting the skeds which you can follow in the sidebar here or on my twitter page directly.  These are of course unofficial results as per what I'm hearing on the sked.