Things are hotting up on the leaderboard of the Townsville Billfish Challenge with 1 day of fishing to go!
The Sunshine Coasters on Kamikaze made a late run into contention yesterday with some really good numbers on the first two skeds – being 4-3-1 and 6-4-4 respectively. These boys know how to catch fish (remember 67 marlin releases off Fraser Island in 2.5 days fishing last October?) By my count they have snuck up to second place with a total of 7 tags for the tournament – not bad for a team who didn't score a run on Day 1!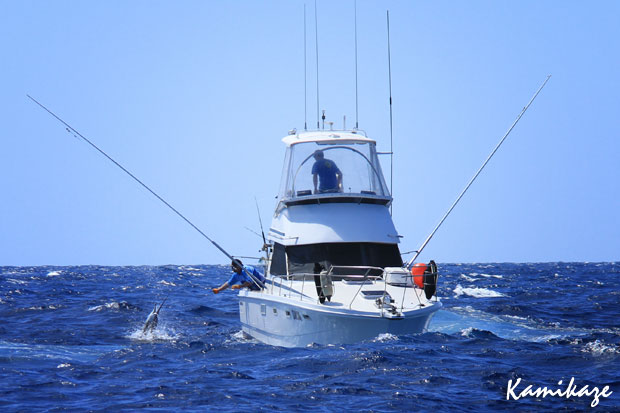 Capt. Jim Dalling's team on the US Viking Billy The Kid also had a good run on Sunday. He's been plugging away, building momentum since start fishing and added 5 tags yesterday to put his team on top with 9 leading into the final day. Also consistent and adding three yesterday the Capt. Sharky Miles/Capt. Casey Dent combo on Levante who join Kamikaze on 7 tags in 3rd position.
Day 2 leaders Hot Tomolly had a quiet day and remain on 6, while OB1 could only find the 1 fish to keep them hot on the trail also on 6.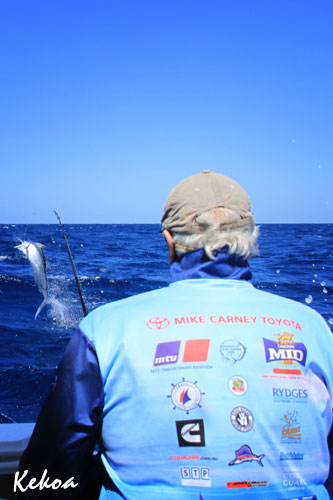 After a slow start for them too, the team on the Chapel added 4 tags yesterday (including the first sail of the day) to sit on 5 tags, just behind Capt. Luke Fallon's KEKOA who added three tags Sunday, including this black marlin for tournament sponsor Mike Carney (and a double header of sails over the final sked time which made it interesting for me who was trying to keep score) also on 5. Silverback were not able to add to their score on Day 3 but remain in contention with 4 tags.
And in the little boat category, in some trying conditions for the smaller craft, the young guns on Y Knot (yes I've finally gotten around to spelling that one right now) added the first marlin of the day and another on the final sked to put them on 4 and leading in their category. Annie B and Midnight are not too far behind them on 2 each
A big thanks to Townsville Coastguard, who are once again our tournament base for this year, for repeating the scores for me when I missed the sked yesterday!
By my count there were 29 tags on Day 3 which puts the total to 72 thus far.