Sydney Blues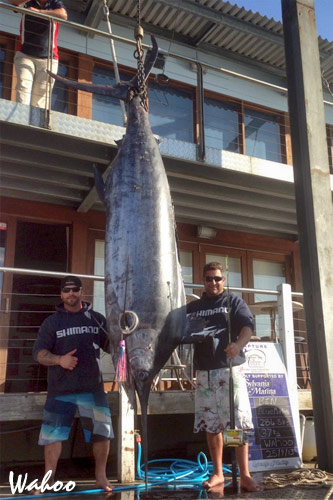 Ambition skippered by Ivan Bennet caught two blues last weekend, tagging one and the other unfortunately dying during the fight being winched onto the deck that was over the 450lb mark. A number of other stripes and blues were seen throughout the week as well as large patches of yellowfin tuna getting airborn and smashing bait schools.
A number of boats weighed yellows over 80kg with the average fish size being around the 40kg mark.
On Wednesday, Wahoo ventured out and landed two blues which went over 600lb, all before lunch – including this pic left for angler Ben. Thanks to Simon for the report!
Cairns Blacks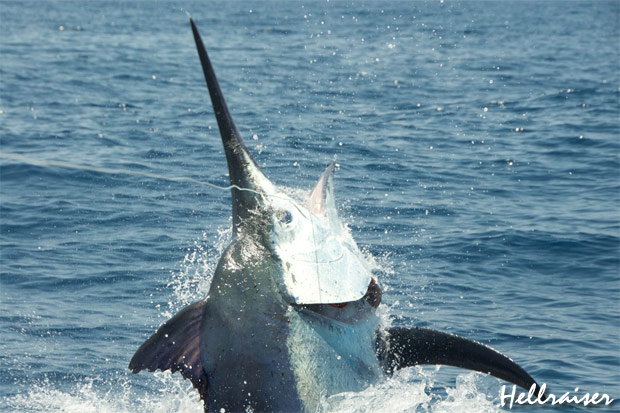 Another week, another big fish, and although its a slowish start,the season is just starting and more boats are hitting the waters off the reef between Cairns and Lizard Island every day! These photos above and below from Capt. Steve Ahlers on Hellraiser of a black marlin he released yesterday that he put at 800lbs. Steve says that the fish was caught on the middle Ribbon Reefs, by first time marlin angler Patrick Lindsay, from the back of Bourke and who hadnever been on the ocean before.  The fight time was about 15 minutes.
Capt. Luke Fallon's KEKOA began his heavy tackle season fishing off Cairns for the past two days this week with plenty of pelagics including several yellowfin in the 35lbs range. Yesterday he raised two blacks at 150 and 300lbs that wouldn't bite.
Also fishing out of Cairns but light tackle, the Poulter family's Think Big. Besides fishing light tackle they were also light on crew with only the two on board! They fished the Oyster/Pixie Reef grounds finishing the day with 3 from 5 with the fish at 40lb-60lb and 100lbs. Sounds like there's still a bit more to the light tackle than heavy at the moment.