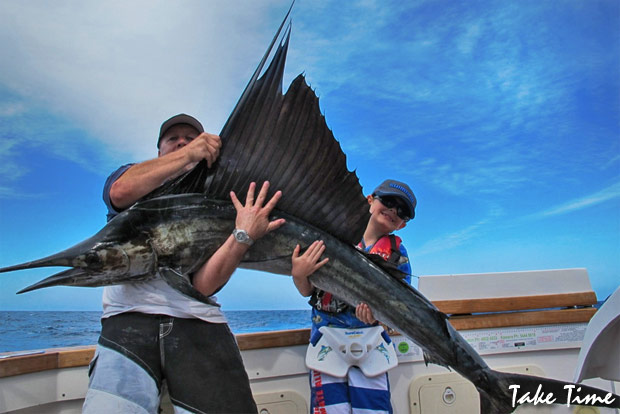 Mooloolaba GFC's club rally day was held on Sunday between the hours of 6am and 2pm with a few boats heading out. A triple hook up of good sized sails on Take Time (and a bit of chaos on board) resulted in young PJ winning the battle to get his sail tagged and on board for a quick photo before release.
Jamie Behren's son Mitchell an estimated 35kg sailfish on 6 kg line and fought it for two or more hour's only to have it pop the line near the boat. He hooked the fish on a small pakula lure in the brown squid colour on the shotgun.
PJ Bennett took out the Rally day, fantastic effort for a junior!
This follows up from the club'sawards presentation on Saturday afternoon at the Yacht Club, presented by QGFA's Dawn Earle. The following are the awards taken out by the club:
Champion out of Area Angler-Trent Rooney
Game Fishing Champion Jnr– Jack Grimes
Champion Jnr Round 1- Jack Grimes
Champion Jnr Round 2 – PJ Bennett
Champion Other Species Tag & Release – Ryan McKinnon
Champion Female – Kellie Jensen
Champion Boat – Compromise
Champion Club Zone 3 – Mooloolaba Game Fishing Club
All Ports Interclub Champions – Mooloolaba Game Fishing Club
Meanwhile, up in Cairns….And as for anyone wondering what's happening up here, the answer is that while its still early in the season, there are plenty of boats fishing each day, but the big marlin have not shown up in numbers yet.
The good news is that it could be any day now. The conditions are certainly right. The current is smoking south, the water is as good as it always is and there are yellowfin and skipjack tuna everywhere. Two sides of the marlin triangle are here. Now we just need the final side, the marlin, to show up!