There are some big fish showing up – Capt. Daniel Carlson on Little Audrey reported a fish he put at 450lbs on his bait fishing trip two days ago, while Capt. Brad Craft on Castille recorded a big fish he put at 800lbs on his first heavy tackle trip of the season. Capt. Brett Goetze on Reel Chase also reports putting hisr first time marlin angler onto his first marlin with 250lb-er off Number 1 Ribbon as well.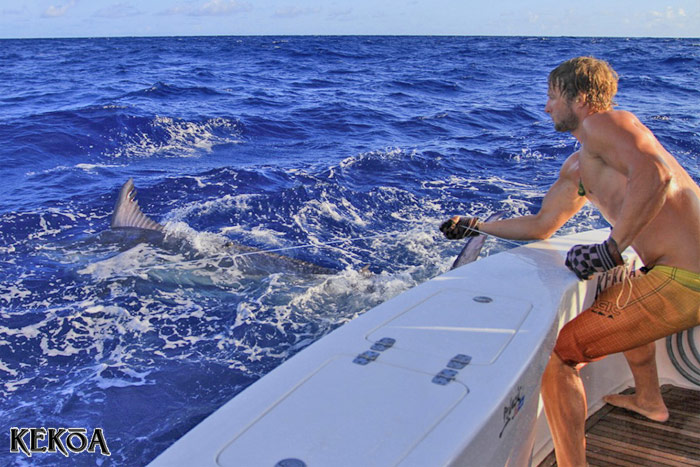 Speaking of big fish, the IGFA has released a press release overnight congratulating Mr. Peter Teakle's sponsored tag, put in another 800lb black marlin on KEKOA last year after the Lizard Island Black Marlin Classic, as the winning fish (meaning the fish that traveled the greatest distance) out of 30 fish tagged for the program in the past year (photo above). The fish traveled 2,577 nm which was a whopping 15% of the total distance recorded by all 30 tags in the entire year! If you'd like to read more, I did a post about it on the KEKOA website which includes the press release.
Taking advantage of the great weather, some of the Townsville fleet have also been venturing far and wide – out to Myrmidon Reef at last.  Leigh O'Brien, on OB1 with Dad Pete tells me they had two bites on Friday  from fish that he put at 150 and 400lbs respectively but no hookups. Like up here in Cairns, there are plenty of yellowfin about and the water looks great.  TGFC weigh-master Renee tells me there was a 200lb black released out there over the weekend as well. Update: John McConkey tells me the fish was caught first time angler Adam Wilson onboard Maximus. Congrats Adam!
More on the light tackle fish – Levante has arrived in Cairns from Townsville and release a small black and a sail on the way north.  I also heard that the Port Hacking boys have also arrived here (Everwilling and The Outlaw). David tells me that The Outlaw spent the last 2 nights out on the reef in idyllic conditions catching bait and enjoying some small black action on light gear on route into Cairns and then onto Lizard Island.
I also received this video below from Caine Williams on his solo marlin release last month off Townsville. Congrats Caine!