Its a big report today – some awesome Cairns fishing as well as four tournament results. But before we get started an announcement for the marlin fleet skippers.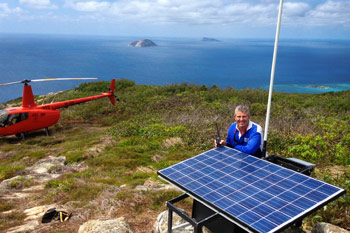 Lizard Island GFC President Bob Lowe is very happy to announce that the repeater is now installed and functioning from Lizard Island and operating on channel 82 for your use. With a huge thank you to Mr. Peter Teakle for his support of the repeater and the Lizard Island club, and to Daniel McCarthy for his assistance and the Island resort as well.
Lizard Island Watersports Ross Penegar sent me this pic of the set up and assures me he has first hand knowledge that its working (had perfect opportunity to put it into use with loss of engines by one of the boats yesterday!) Go the 2013 Lizard Island Tournament!
Now to the awesome fishing: Capt. Bobby Jones on Iceman, fishing his 30th Cairns season no less, had an awesome day on the water yesterday with his guest Phil Salmon from Seattle at Number 10 Ribbon Reef. Sam Muscat, who is back on deck for Bobby this year, tells me that Phil released two big fish yesterday, the first that Bobby put at 600lbs, the second at a whopping 1100lbs! This follows up from Phil's 400lb-er a few days ago, and fresh from the fight on another big fish the day before which was unfortunately lost when another fish swam through the line.
While it was a quieter day down on the southern edge of the reef again, other boats reporting fish were also up the top. Capt. Brett Goetze on the new Reel Chase says that they caught 1 from 2 also on Number 10. Brett says that unfortunately the one they lost was a big one and it had a number of smaller male fish swimming with it.  Angler Drew has fished many other destinations trying to catch a marlin so was stoked to get his first on his first visit to the reef.  Also on Number 10, Capt. Tim Richardson on Tradition released another for Lydie which must make 7 for the week so far? Way to go Tim, Lydie and team!
Showing that the Light Tackle season isn't over yet, the Poulter family – just Sharon and Paul again two up – fished light tackle wide of Fitzroy on Think Big, their last light tackle hit out before heading up to the Rock this week for the tournament. They went 2 from 2 both black marlin and both similar sizes around 60lb. Paul says they also picked up a couple of nice spaniards and 2 bait sized tuna for the big girls.
And I heard from John Mcconkey who notched up his first black on Maximus last week at Myrmidon Reef off Townsville. John was back out there for another go over the long weekend and saw a frenzy unfold. John says they watched a pack of blacks destroy a tuna school wide of Myrmidon with at least 4 on the surface the whole time. Most were around 200-350 with at least one big girl in amongst them. John says it was spectacular to watch but they couldn't get the fish behind the baits. Oh John, a feeling we know so well when they are in that 'mode' up here ;-)
Tournaments x 4
Here are some pics from the four great tournaments that were held over the weekend. Continue reading after the jump for full details on the 'winners and grinners' at Weipa, Mission Beach, Whitsundays and Sunshine Coast! Click on 'read more' below.
Weipa Billfish Tournament
From the club: Overall 44 billfish were tagged from about 80 raised, mostly sails although several baby blacks were tagged as well.
Champion Team went to Tag Team with 8 tags and Jay Edwards and Darren Lee Champion Male and Runner Up Male respectively, followed by Last Cast with 6 tags.
Champion Female was Suzie McDonald fishing with team Runamuc with Talina O'Brien who took out Heaviest Other Gamefish with a 12kg longtail tuna and Kristy Philliskirk who sent in the great pics.  Suzie took it out on count back from Andrea Kennedy who also had one billfish tag. By all reports it was a great weekend and the club says a big thank you to all competitors, sponsors and committee….and the weather gods too!
Mission Beach GFC Annual Challenge
Report with thanks to Barbara Leptig: Day Two produced two more billfish – a sailfish from junior Michael Bolton aboard Jimmy, and a black marlin from John O'Malley on Moonshine.
Above Grade fished out wide and found plenty of yellowfin tuna, so they're certainly around this area as well as Cairns. Their angler, Lachlan Cutts, got an impressive 30kg wahoo and Mark Contempree weighed the heaviest yellowfin tuna. This team, with Roly Newton, from TackleWorld Tully, very nearly beat the champion overall team of Jimmy with their weighed gamefish! As it was they beat Moonshine who had 2 tags.
Final results:
First – Team Jimmy with marlin and sailfish tags. Champion overall angler was their junior Michael Bolton. Runner-up – Above Grade with Lachlan Cutts named Champion Male Angler. Third – Moonshine with two marlin tags. Champion Female Angler was Lynda Edwards.
Whitsunday Light Tackle GF Tourn
Thanks to Ross Martin (part of the winning team too congrats) for the results:
8 boats competed with 8 juniors, 5 female and 49 male anglers releasing 17 billfish for the weekend. Another great results. The final results were:
Champion team O/7 – Watta Cat Runner up – Sea Fever
Champion team U/7 – Ka – Noo Too Runner up – Range
Champion Male Angler – Ash Warland Runner up – Troy Harvey
Champion Female Angler – Sorrell Davidge Runner Up – Aileen Harris
Champion Junior Angler – Dayle Johnson Runner Up – Matthew Vessey
1st Billfish Day 1 – Ash Warland (Watta Cat) 1st Billfish Day 2 – Sorrell Davidge (Ranga) 1st Billfish Day 3 – Ash Warland (Watta Cat) 1st Billfish for a Junior – Matthew Vessey (Sea Fever)
Heaviest Mackerel – Kynan Beutel
Encouragement Award – Ashey Moore & George Johnson
Champion Boat Out Of Town – Somewhere
Sunshine Coast Spring Shootout
Big thanks to Brent Higgins for the report:
A fantastic tournament to kick off the SEQ tournament season with 29 teams and nearly 100 anglers competing. While the fish were a little uncooperative it was an exciting finish with club major sponsors Ord Minnett charging home late on day two with 3 sailfish, the fleet eagerly watched Benny Colvin driving Zeus manoeuvre on a double header 1/2 an hour before cease fishing to claim victory over Catapult, Old Salty Dog, Dragon Lady, Whitehorse & Big Splash all with one tag.
Overall 6 sailfish and 2 black marlin were tagged and 1 cobia weighed to Champion Female Angler Sophie Currey. 12 juniors competed with Josh Allwood taking out Champion Junior and Mike Holmes claiming Champion Overall.
The new format over the long weekend with the NRL Grand Final party at the Kawana Hotel ensured a very social weekend enjoyed by visiting SEQ clubs. The SCGFC claimed a round one win for the new SEQ Club Championship, Gold Coast GFC will host round 2 in January.