More fish from the top for Capt. Bobby Jones on Iceman with reports that he added another three marlin yesterday to the tally for his US anglers Phil and Dan Salmon – including another fish that was over the mark.  The second fish over 1000lbs in two days…again. It was just last week that we heard the same from Capt. Hayden Bell on Release.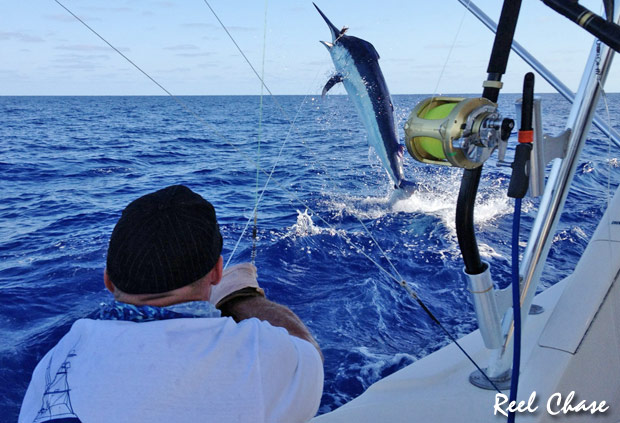 Fishing in the Middle Ribbons, Capt. Brett Goetze on Reel Chase also had a great day on the water releasing two from two. Brett says that the day started out with a 350lb-er after lunch…and finished with a fish that he put at 1000lbs for angler Andy Marsden in the afternoon (photo above).  The fight lasted an hour for the first time marlin angler – great start to his marlin count!
Nearby, Capt. Tim Richardson on Tradition managed another 400lb-er for Lydie while back at the top the Lizard Island crew (who tell me they are still waiting for a big one for Fascination), released a 120lb black whilst bait fishing on a small feather chasing queenies. Fascination's Billy Fairbairn with the tag flag below – lookin' good Billy;-)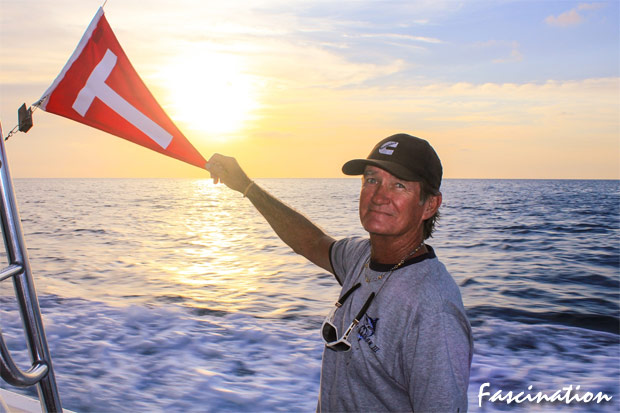 Down the bottom, Capt. Jim Dalling on the US Viking Billy The Kid departed Cairns heading north to make his way to the Rock for the tournament with owner Bill Pullman and friends on board.  They notched up a great start to their heavy tackle campaign as well with a 600lb-er wide of Escape Reef for Vinnie. Update: I just heard from Hot Shot's Capt. Ian Ford who reports a 650lb-er at Number 3 Ribbon Reef yesterday as well.
A bit further to the south again, Capt. Adam Jordan on Iona 2 is back out for a four day trip and went one from two at 300lbs – jumping a fish about 500lbs off.  Great photo of the fish underwater from Mustard below.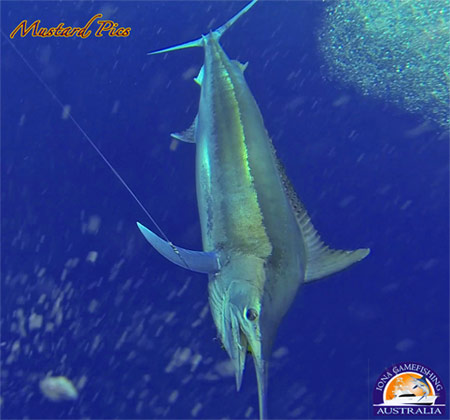 University of Queensland Honours student Sam Williams, who is requesting the collection black marlin fin samples, has released his second newsletter. In this second edition of the bulletin he investigates the background behind post-release survival and handing techniques, as well as giving an all-important update on the latest finclip entries. Download the newsletter here.