Innisfail GFC's Ben Heath is fishing on board Kanahoee with Capt. Chris "Sharky" Miles. He's notching up the solid fish already with one about 600lbs released on Wednesday and followed up at the death yesterday with a frisky 750lb-er on the late sunset bite.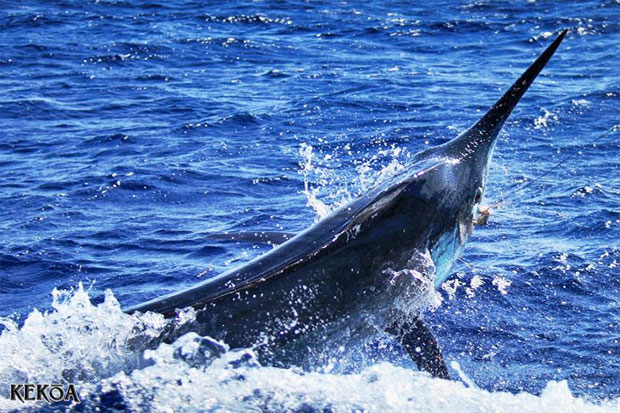 On KEKOA we released an excitable 400lb fish for George (photo above) and dropped another about the 700lb mark. We also caught a huge yellowfin that Capt. Luke put at 200lbs, which exploded on the stinger like a marlin before taking the skad. Awesome sight!
Capt. Jim Dalling on Billy The Kid also released another marlin and dropped a nice one in the 900lb range as well.
Capt. Kim Andersen reports from the first day of a three day trip aboard Bounty Hunter catching Weipa's Andrea Kennedy her first marlin. Kim also reports plenty of yellowfin and wahoo down that way.
Updated: I heard this morning that Capt. Hayden Bell on the Release caught three yesterday while Capt. Tim Dean on Calypso got two smaller fish at #2.
Again I'm just on the edge of service so will update if I hear more. More boats are joining the main fleet now as we journey north for the start of the Lizard Island Black Marlin Classic this Sunday.