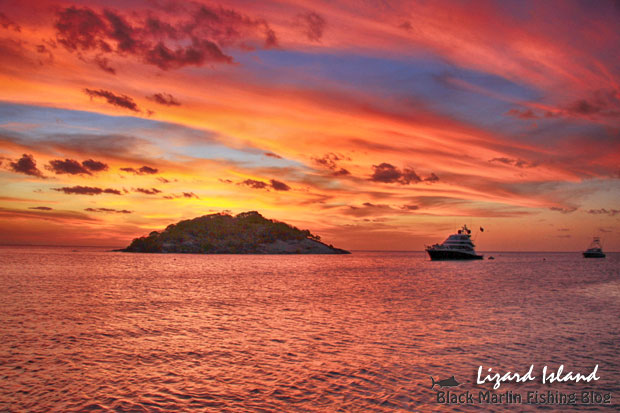 Day 1 of the 2013 Bertram 27th Lizard Island Black Marlin Classic is today. I'll be tweeting the skeds again this year which you can follow on my twitter feed here (you don't need a twitter account to follow).
Not many boats fished yesterday, rather taking an easy day on the way to the island. One that did was Capt. Tim Dean's Calypso who found the water dirty on Number 10 but still found the fish releasing three (about 400lbs). The Poulter family on Think Big, with Capt. Laurie Wright back on the wheel for the tournament likewise fished up Number 10 with young Adam releasing his first heavy tackle fish also on Number 10.
This year we have a record number of satellite tags to be deployed during the tournament, the most in any tournaments around the world I understand. Peter Teakle is one again sponsoring 5 tags, while Ernesto Bertarelli from the Bertarelli Foundation is sponsoring a massive 10 tags for the tournament. Mr. Bertarelli's mothership Vava has also arrived at the island this morning and is an amazing sight on anchor out the back of the fleet.
A few other bits and pieces from the briefing: Andrey Grigoriev is back and fishing on board Moana again this year after being absent last year (you can read a bit about Andrey's Lizard Island history here).
Also good to see South Australian Great White Shark Legend Rolph Cybayski and son Ralph back fishing again on the Kanahoee this year. Rolph has already had a big year. Traveling the world he has successfully completed the Royal Billfish Slam to official IGFA rules – all billfish species in the Atlantic and Pacific ocean under the stringent IGFA rules.