The Port Douglas Marlin Challenge 2013 has begun! Read on below for the results (I have once again been tweeting the fish as I followed on the radio).
Outside of the tournament: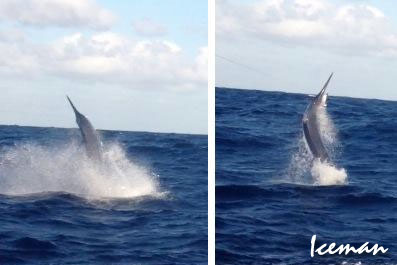 Capt. Bobby Jones' good luck charm is back on board Iceman with guests Karen and Mike Hogan from the USA.
The team of Capt. Bobby and Capt. Peter B. Wright once again produced some really nice fish yesterday starting with a 750lb black marlin released for Karen and topping it off with a fish at the magic number for Mike.
Congratulations to Karen, Mike and the team. Thanks Sam for the photos (above)!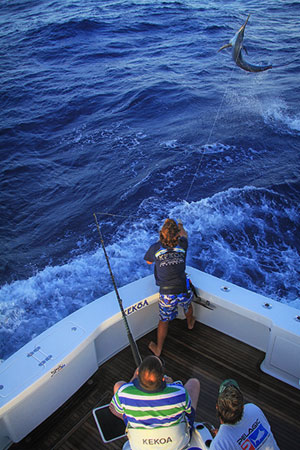 Capt. Tim Richardson on Tradition headed north to new snorkeling pastures for his guests Chris and Laura. They missed another big fish but caught a small one about 300. Likewise down south, Capt. Ian "Wobbles" Ford on Hot Shot tells me they caught the smaller fish with another big one up. And on KEKOA, with Capt. Luke Fallon, we raised and caught the just smaller fish to put new angler Paul onto his first black marlin (right).
Port Douglas Marlin Challenge
12 boats lined up to fish on Day 1 with 5 tags for the day for competitors. Leading on count-back, the team on board Gorilla who recorded the first fish at 450lbs for Norman just after the first sked. A few smaller fish followed for Althaldo, Above Grade and Revive (in that order) before Capt. Laurie Wright, at the helm of the Poulter family's Think Big, tagged a nice one to finish the day, at 750lbs for Sharon.
I'll be tweeting Day 2 results today.
More from Fraser
Steve Morely sent me this report from his recent Fraser trip with Michelle which backs up the recent reports of good fishing from Rob Wood in the lead up to the Hervey Bay tournament.
Steve and Michelle fished on Friday for 4 hrs for a black and a sail. Both were firsts to Michelle with a bonus 12kg dolly. On Saturday they got back out for 2 blacks and 3 sails with two more bonus dolphin fish. That included a double fishing two up and with Michelle's fish a decent one about 40kg. As usual, they went in opposite directions with hers putting 450m of line between them and the fish while Steve's stayed fairly close.
All in all a great trip with Michelle now wanting to get back to get her blue marlin to complete the set! Thanks Steve for the great photos below and congratulations Michelle!