Port Douglas Marlin Challenge:
It was a quiet start to the day for boats fishing the Port Douglas Marlin Challenge with no fish recorded on the first sked. But about an hour after, the call came through from Think Big that they were hooked up with Sharon fighting the fish that Capt. Laurie Wright put in the 850lb range for several hours in a top effort. Unfortunately the fish was tail wrapped and she went down deep and they couldn't get her back up to the boat.  The call came in not too long before cease fishing of 'lost fish' – heartbreaking stuff!
That left the only fish recorded for the day for the tournament going to Capt. Damon Gruzdev's Kyrenia who tagged a fish they put at 250lbs for Phil.  Lachie Eggins on Althaldo called in 'hooked up' just before cease fishing, but they self disqualified the fish as it dropped the bait, and then came back again after cease fishing for a successful but non-pointscoring release.
Tournament base tells me that several other boats had encounters but no hookup. Hopefully the fishing picks up today!
Leader board going into day 3 is (all on one tag on count back):
Gorilla from Althaldo, Above Grade, Revive, Think Big and Kyrenia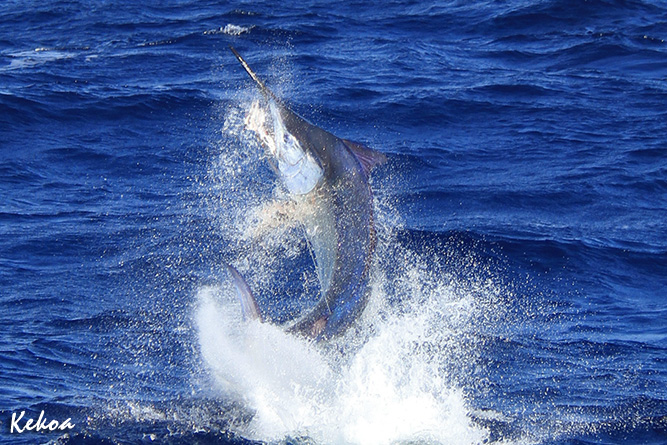 Outside the tournament several nice fish were recorded with Billy The Kid back out for a fish Capt. Eric put at 900lbs and Kamikaze following up from their smaller one the day before with a fish that Ross Martin, who is on the wheel, put at 750lbs for Bill Irvine.
Capt. Ian "Wobbles" Ford on Hot Shot released two including a nice one that he put at 800lbs while Capt. Luke Fallon's Kekoa put South Australian angler Kym onto his first black marlin that he put at 450lbs (photo). And Capt. Bobby Jones on Iceman finally caught a little one! [:-) haha]
Catch Up Big Marlin Videos
From Lucy West's big fish during the Lizard Island Black Marlin Classic:

Some of the recent hot fishing on board Capt. Tim Dean's Calypso:

And likewise from Capt. Brent James on Mauna Kea's week of hot fishing in the middle: