Catch up reports only today!
On the reef off Cairns:
Capt. Russell Caphorn on Kaizen sent me a quick update having been recently joined by Mick, Ben and Chad. Russell says that Ben spent some time in the chair fighting three marlin in the 950, 900, and 650lb ranges (on lures). And Chad caught his first marlin at 200lbs. They were out again yesterday for 6 days with the Reid boys from West Australia.
I also received a report from Mark Rogers who was fishing with Ross McCubbin last week on the Bounty Hunter out of Lizard Island. Mark reports that he had a fantastic time and that Ross and crew were fantastics hosts. Mark caught and released a black marlin that Ross put at 350lbs at First Corner on Number 10 Ribbon Reef on Saturday afternoon.
I also received this photo below from the Poulter's of Paul's fish on Think Big during the tournament over the weekend. Thanks Paul – well done!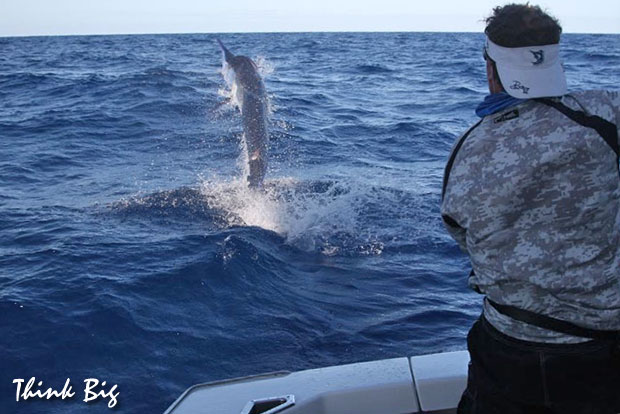 On the reef off Townsville:  
Report from John McConkey on board Maximus who found some fish just wide of Myrmidon Sunday and Monday. John says they released a mid range marlin, dropped another of similar size and raised another 4 rats. Plenty more of the Townsville GFC fleet also spent a nice weekend out there. Peter O'Brien's OB1 also released one from a few bites as well as a bull dolphin fish as well. And Mick Dykstra's Reel Crazy raised a few as well.
SEQ Gold Coast to Fraser:
Glanville Heydenrych sent me a report from a trip from the Gold Coast to Fraser and back on a 63ft Bertram Happy Hooker having some good fishing both light and heavy tackle.
They had some good fishing starting with 2 hours light tackle last Sunday and went 4-3-3 on little blacks. They went back out again on Wednesday after the weather moved through and went 2-1-1 on blacks and 4-4-3 on sails again in just 2 hours of fishing in the afternoon. On Thursday they went 1-1-1 on sails before going 1-1-1 with a blue around 450lb. They also released another blue on Friday around 300lb with some quality dolphin fish pushing up to 20kg eating the heavy tackle lures as well.
On the way up last Saturday they also hooked another blue off the Moreton Canyons in the late afternoon that pulled the hooks after 20mins – the fish that would have gone over 500lb peeling 500m off a 130 with 19kg of drag before they were able to finish clearing the deck.