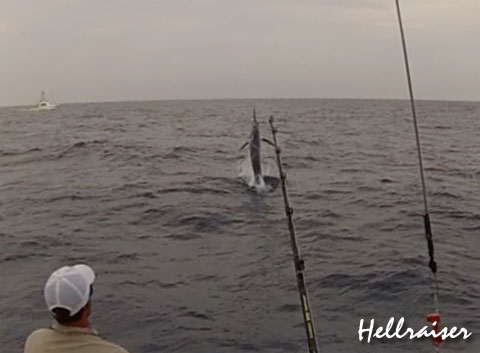 Capt. Steve Ahlers non Hellraiser was in last night after his latest 3 day trip. On the marlin side, they went 2 from 5 on two black marlin at 300 and 400lbs and also jumped off a nice blue marlin. I've heard there have been a few more blue marlin encounters out wide (photos above and below of Sue's tuna).
Capt. Damien Collette on Saltaire has been fishing in and out of Fitzroy Island the past few days and tell me that they got a nice sail out off Channel a few days ago. They've also ventured a bit off the edge to find some nice yellowfin and yesterday added a small black and another good sized sail to their count fishing at the Light.
Capt. Ashley Matthews on Sea Fever ventured out to the Sea Mount to find some action getting back to the reef last night. They released 1 from 4 at 400lbs for angler Dan and jumped another one off around the 300lb mark with the other two suffering from rubber hooks!
Its been pretty tough fishing on the edge for the past few days and the fleet have been venturing further wide. Hopefully more reports will be trickling in as they return to port/the edge.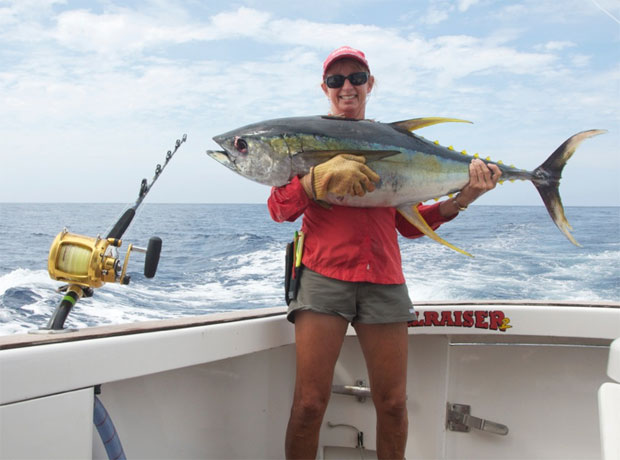 And yet more from Fraser and there abouts
They just keep coming!
Grant Thomson returning his boat Cjig south has spent the last few days fishing for just about everything along the way. Grant Says they fished Blossom Banks for a bunch of GT and trout but no marlin, and then went 1 from 3 blue marlin off Heron Island the day after (all the fish around the 350lb range). On Thursday they released a 250lb black marlin and caught a good dolly off Lady Elliott, following up with 2 from 4 little blacks near the Light Ship.
Yesterday they were at it again after a big night reds fishing and went 1 from 4 on blue marlin plus two dollies before 11am on the Noosa Canyons and as they continued on, released another little black off the Cape Moreton Trench on the way though. Action stations!