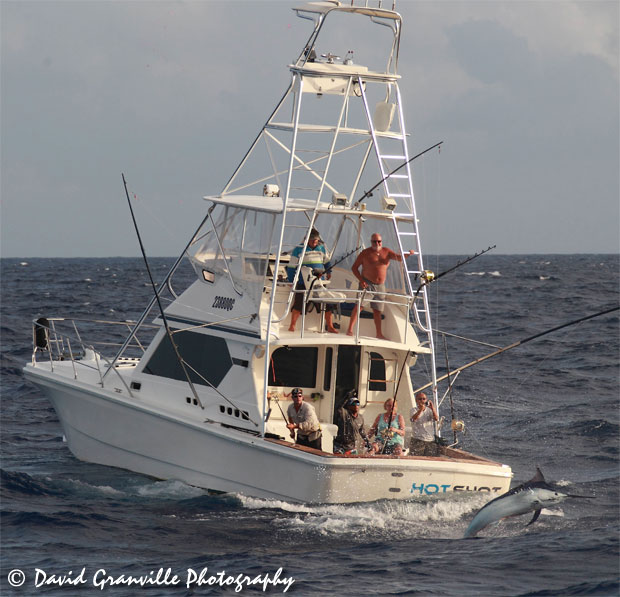 Capt. Haydon Bell on Release wants to tell everyone about the great Cairns BLUE marlin fishery as he encountered blue after blue out wide on Saturday – and big ones too.  Haydon says out of the 6 bites he had, all but one were from blue marlin and some very nice models amongst them. He converted 3 from the 6 with two of the blue at 500 and 650lbs and a 200lb black for Ian, John and Leon from International Paints Australia. Haydon also said that two of the blues that they missed were bigger than the ones they caught!  That pretty good sized blues for up here off Cairns!
Meanwhile, without as much success, but still picking away, a lot of other boats getting bites to and from destinations out wide and several converting as well.
Capt. Jim Dalling is back at the helm of Billy the Kid and converted one black marlin on the way to the Sea Mount on Saturday. While the Sea Mount itself hasn't been producing to much, he did convert a second on the way back in to the edge yesterday that pounced on the teaser and was quickly converted on the switch bait.
Capt. Damon Gruzdev on Kyrenia is also back on the edge winding up his season after a few days at Holmes Reef. Damon says while out there they enjoyed some great swims in some great visibility. In addition to the three they got on the way out the other day, they converted another at 200lbs on the 50lb standup yesterday on the way back in.
Capt. Damien Collette on Saltaire was on a day trip from Cairns to Port Douglas and was one of the few seeing fish on the Bank releasing a nice 800lb black marlin.  While Capt. Tim Richardson's Tradition ended up his 9 days with Brady releasing a 400lb-er which was number 4 for the trip up to 650lbs.
And on KEKOA, the day after raising two absolute beauties that would not bite, we put 18 year old Keith onto his first Australian black marlin (photo below), trying to avoid the blue marlin (when you read about Keith's adventures with blue marlin earlier this year – 68 in 2.5 days fishing – you'll understand why releasing a blue is not a priority!)
There have also been several sails and a few of the baby black encountered of late as well, particularly while bait fishing. Here's one tagged on board Onsite last week which was caught on the laser pro!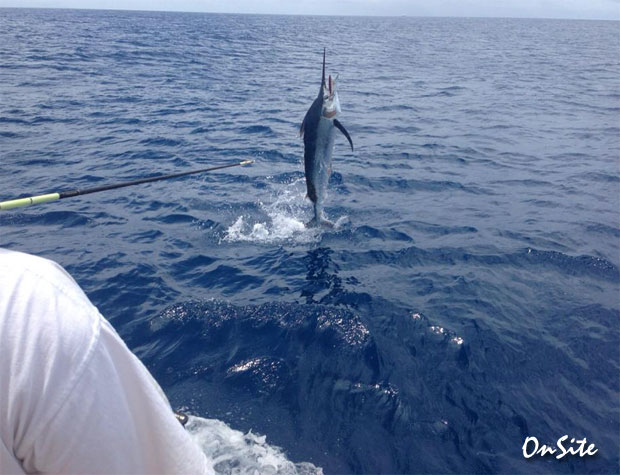 SEQ Blues (and stripes)
The good fishing on Queensland's southern coast continues. Capt. Ross McCubbin is back on the Gold Coast after his season at Lizard and released a 300lb blue on Reel Busy for Daniel Hartfield yesterday. Ross said that it was David's first blue marlin and he did a top job on the standup 80. He said there were 4 blues and 3 stripes tagged from among 5 boats that he knows of and that it looks great out there with lot of dollies around as well.
Barco was one of the others on the fish with 2 from 3 while Dimitri's Estate caught 3 from 3 on Saturday. And Capt. Ken Brown on Megumi was reporting a nice striped marlin release yesterday off the Goldy as well that he put at 250lbs.
On the Sunshine Coast, Conor tells me they raised 4 blues, hooked 3 and tagged two on board Mooloolaba GFC club boat Reel Action and Kylie Hombsh caught her first blue marlin which was also the first for the boat!