Cairns
Capt. Ian "Wobbles" Ford on Hot Shot has shown that when the fishing is tough, persistence pays off. He had the bite out of a nice fish (that he believed to be the same fish) in the same spot over the preceding two days. Yesterday he caught it releasing a nice solid 800lb black marlin for 15 year old Michael Garbet.  Congrats Michael – great fish!!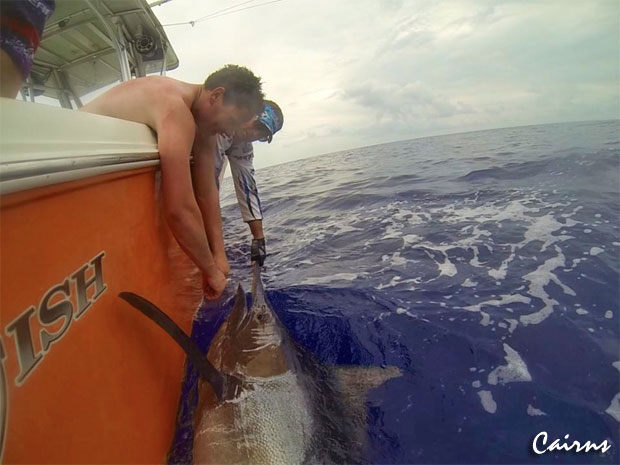 Catch up photo from Tam Missen from Monday. Tam says that they've had their first ever attempt at the big marlin after only targeting small blacks last year from his trailerboat that is based at Yorkeys. It only took one day and hooking up Jenny Louise on Monday in 180metres of water on 50lb standup gear…… 3.5 hrs later we had this nice 400-450lb black boatside.
And another of the private fleet heading back home to the Gold Coast after spending the season in Cairns, Capt. Leigh Bradshaw on Revive who fished out wide yesterday from Lady Musgrave, heading south. After a 3.5 hour fight in the chair, they tagged nice 750+ pound blue marlin for angler Dan Newnham.
Hervey Bay Tournament Results
Direct from the committee – pics below:
"HERVEY BAY GAME FISHING CLUB 's CLASSIC 14th 17th NOVEMBER, 2013
18 teams with 64 anglers (including 2 lady anglers and 2 junior young man anglers), set forth from the Hervey Bay Boat Marina on Thursday after a Great Briefing in HARVEYS Bar & Bistro, to the sheltered anchorage off Rooneys Point on Frazer Island where the mothership Tasman Venture laid anchor and set up as the tournament base for all fishing operations  which  finished at 12 noon on Sunday after 2 1/2 days of excellent fishing in the pristine waters around the Great Sea Spit. Anglers came to the Ship for a cocktail or two as the sun slipped down over the Horizon and soon it was quiet as they rested for the first day of Fishing early next morning.
By the end of Day One, after 3 almost identical Radio Skeds, there were 22 black marlin on 8kg ,1 blue marlin on 37kg and 2 sailfish on 8kg. Talk that night was of the many pulled hooks where the small black marlin did not get the hook in the right place to stay hooked. Those out after the blue marlin saw some that were not that interested in going for a workout. No late nights on the mothership again and all were out early again as the Bar was practically cross-able at any point and all boats fished "Outside" on both Light and Heavy Tackle.
Day Two :Fishing was slow in the morning but picked up with the tide by lunch and another very respectable score was achieved by stop fishing at 1600. 21 black marlin on 8kg, 3 blue Marlin on 37 and 60kg with more dolphin fish recorded. A lively time at dusk on the mothership relayed great stories and early to bed also as it was only 1/2 day on Sunday and there were many contenders for the places to fill after the 12 noon stop fishing. So Far all but one Boat had Scored and there was lots of room both ways for categories to be filled.
Day Three :At daybreak the Breeze had arrived as forecast and the surface lost its reflective glaze. The Boats headed out early and the Fishing was brisk with reflections of last year at times. Unfortunately some Boats suffered the worst mechanical problems forcing them to limp back inside and start their slow way Home, fishing as they came. Nothing was serious and others that had fared not as well, took off and made up for it. 2 Boats got all their billfish fish on the last day. The wrap for day 3 showed that for only a half day, there were 15 black marlin on 8kg and 2 more Sailfish on 8kg. One Black Marlin was called in at only .800mm and it was decided not to tag it ; just gently release it after a 'fin sample' ..fin samples were also taken from other specimens for very important research. There was also a " Tag Return "; that is a black marlin that had been tagged previously was caught ; the Tag streamer was removed and the fish re-tagged and released.
These sort of occurrences always make a Tournament more interesting and meaningful.
FINAL RESULTS There were 58 black marlin ; 4 blue marlin ; 5 sailfish all tagged and released.
A Total of 203 strikes : 149 hookups : 77 recorded fish of which ; There were dolphin fish T&R as well as 3 specimens weighed and I wahoo weighed.  2 cobia were boated along with other non-qualifying fish.
A very respectable  result to a well concepted Tournament with 3 sections available for "Salt Water Fly Fishing " with its own points system,  or stay  "Inside" and fish for additional Species and varied points. Everyone chose to fish " outside " in perfect conditions.
Black and Blue Overall winner
Runner up "Run""