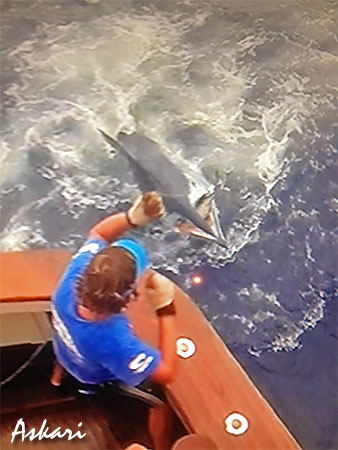 It's not over yet! The fishing was showing signs of promise on the edge off Cairns yesterday with more activity than we've seen in well over a week.
With Little Audrey out of action for the rest of this season, Capt. Daniel Carlson had joined his guests on board Capt. Corey Hard's Askari for a three day trip out of Cairns. While they had a quiet start to the trip, they more than made up for it yesterday with some hot fishing on the way back into Cairns. All within an hour, they had three bites and converted two including this real nice one that they put at over 900lbs (above) and another around the 350lb mark.
Capt. Simon Carosi's likewise had his own top bite on going three from three to 500lbs yesterday on 'A Fish in the Arvo' (Afishionado). Simon tells me that puts them at 6 from 6 in the last 5 days including a 500lb blue marlin in the mix as well.
Meanwhile at the Light, Capt. Ian "Wobbles" Ford on Hot Shot proved that his big fish from the day before wasn't the only one still around hooking up to another nice one in the early afternoon, but unfortunately pulled the hooks just outside of leader range. They got n the board with a smaller fish late in the day while nearby on KEKOA Capt. Luke Fallon put Scotty onto lit-up black that stubbornly hung deep for most of the fight before being brought to the surface for our first glimpse since the bite, for release.
Capt. Brett Alty's Mistress is among the southern fleet heading home after his season and stopped off on the way through for a quick fish and released a bucket list sail for his crew.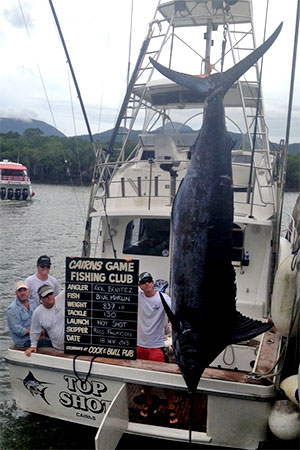 As reported earlier in the week, there was a short run of oversize blues (most definitely large for Cairns) in the hot water out wide. I heard from Rick Benitez who was fishing on board Top Shot with Capt. Ross Finlayson and crew this week and had his own encounter with a big blue that was brought on board on Tuesday. Rick had some particularly good black marlin fishing back in season 2012 (6 in 4 days with two over the magic mark and 2 in the 950lb range!) and could have been forgiven for thinking that he'd used up all his luck then, after a few days of donuts on this trip. But as he said, it only took the one bite to put him onto this big blue which was weighed in at 838lbs. While the official Australian 1000lb blue marlin milestone still remains elusive, this marks the largest blue ever weighed in Cairns and the third largest in Australia (you may remember the Ultimately Lady came tantalizingly close – well actually over – in 2009 with a 1080 blue caught on their way to Cairns for the season off Mellish Reef, however unfortunately the fish was prop damaged and not official). But it is most definitely a possibility in Cairns! Congratulations Rick on your milestone fish!
Speaking of big blue marlin, private boat Revive, still heading south and the day after releasing an estimated 750lb blue off Lady Musgrave as reported yesterday, did half day light tackle and released this nice sail below for angler Jed Newnham.