Grand Cairns
After some quiet days, its always good to make up for it with a few quality fish and some boats certainly did that yesterday.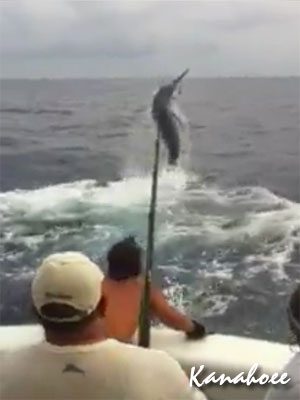 It was a very good day for team Kanahoee with angler Mike Dobbins returning to the reef for another go at the big fish (he fished with Capt. Bobby Jones on Iceman earlier in the season for a real nice one). He found another real nice one on a day the team converted three from four at 250, 350 and 1000lbs!
Congratulations Mike (again!) Screenshot of the video footage left.
Likewise on Capt. Jared Weir's Shaka, they put an end to a quiet run with a nice big one for John that Jared also put at 1000lbs (pic below).
Congrats John!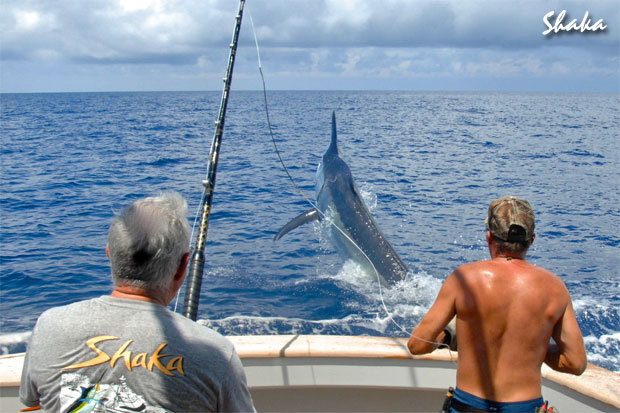 Capt. Ian "Wobbles" Ford on Hot Shot is keeping consistent releasing two from two including this one below that I shot from nearby. Capt. Simon Carosi's Afisionado also released a 400lb in one from two and Capt. Craig "Sparra" Denham on Black Label also released one on his first day back out.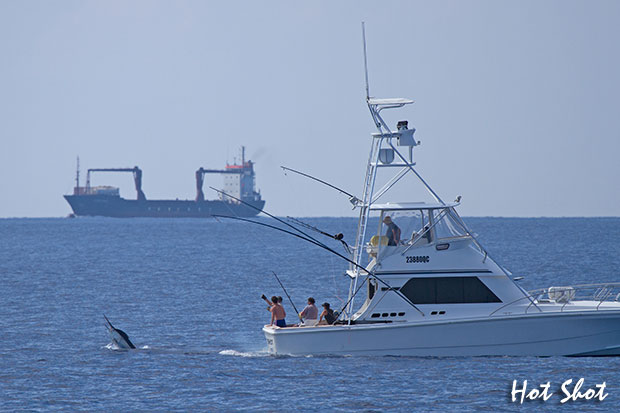 Catch up report and pic from Paul Dosen's Live Wire. Having upgraded to the 32 Caribbean this year, they're enjoying her maiden heavy tackle season. Paul says that so far  they've caught 6 marlin ranging from 80-700lbs in 12 days fishing and are seing fish every day. Below is a photo of Jay Edwards 300lber from last weekend's YKBC Makaira Bullfight. Jay won champion angler and Live Wire champion boat over 7.5m with the first fish of the comp. Beautiful pic/fish!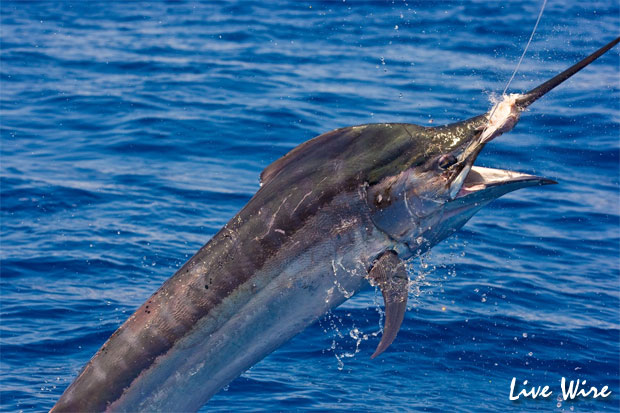 Sails at the top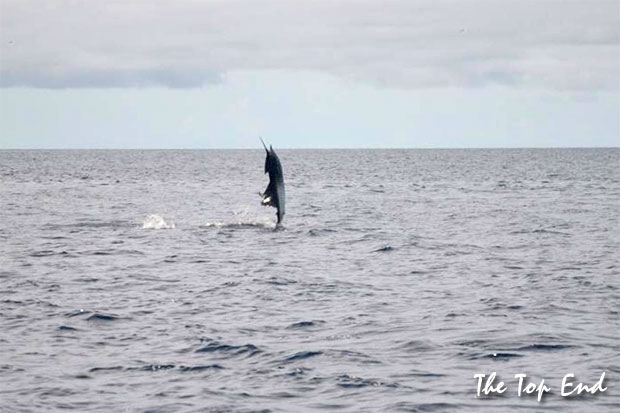 I heard from Alex Holme who is fishing up the very top end – at the tip of Queensland. Alex said they came across a few frigates circling up high yesterday and threw some little skirts in. Within 5 minute they had a nice sail on. It pulled the hooks but another sail ate it as they were retrieving it which was the start of a few hours of mayhem. Alex said they had pods of sails coming up in the spread, one behind each lure (and he would have killed for a few livies!) They managed to catch a small tuna to rig some belly flap pitch baits and switched two more before the bite died down finishing up about 30-18-8 for the day!
SEQ Blues
Lachlan tells me that they have finally broken the blue marlin monkey on board Catapult. They went 3-3-2 on the blues straight out from Mooloolaba with Paul Jones getting his 1st blue at 200lbs and Paddy Diamond also getting his 1st blue at 300lbs (photo).  They also raised another on the teaser but it didn't want to play the game.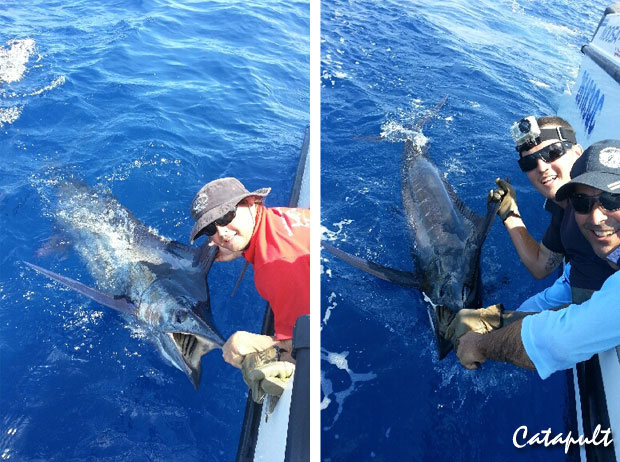 Meanwhile on board Reel Magic with Allan Harradine, Conor says they hooked another SOLID blue further down Moreton with his brother the angler but unfortunately the dolphins became the enemy and hit the line.  Its looking good for the MGFC tournament at the end of the month!