It seems there are still plenty of big fish in the Cairns season yet.  We're winding down but there's still a couple of weeks fishing left and more big fish to come judging by reports.
Capt. Kim Andersen on Bounty Hunter topped off a couple of quieter couple of days on the marlin front with a big fish that he put at 950lbs+ at Number 1 Argincourt Reef yesterday afternoon for angler Rob Cox. Kim's been out to the Seamount and back over the last few days and had plenty of fun with a couple of bites along the awy and 'the log from hell' that gave them doubles and triples of yellowfin, wahoo and dollies. Congratulations Rob!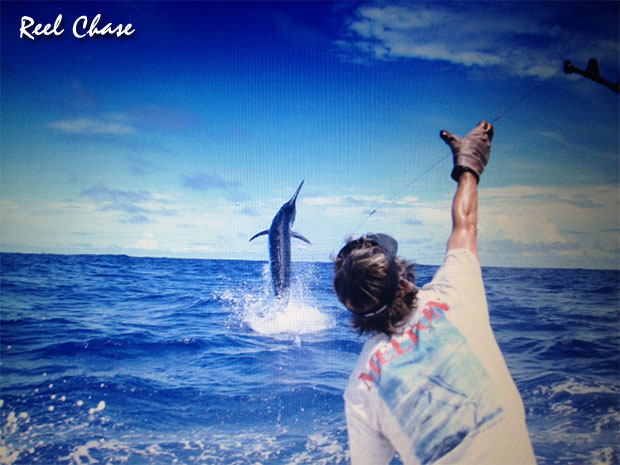 Capt. Brett Goetze's Reel Chase was back out on a new trip and started off well releasing two including a nice one for Mark Kelly that Brett put at 800lbs (above) – Mark's first black marlin – a nice way to start. Brett says they also had another real nice one up that wouldn't eat – a story I heard from several boats. Hopefully they will bite over the next few days.
Capt. Jared Weir on Shaka caught a small one and missed the bite out of another big one while Capt. Chris "Sharky" Miles on Kanahoee added another two both around 200lbs and sat tagged one of them.
Catch up reports:
Capt. Brad Craft on Castille III tells me they have caught 5 over ther past 6 days fishing up to 750lbs.  Katie has been back on board for the last couple of days and has released two small ones so far and is hoping for another big girl like last year!
From Saturday – Capt. Glen Hunter's Onsite had some great fishing going 3 from 4 to 450lbs before heading back into Port Douglas. While back on Reel Chase, Capt. Brett previously finished up a spear fishing trip with the owner of Aimrite Spearguns, Travis Hogan. Brett says that the boys were out to chase the world record black marlin on spear and while unfortunately they came up short of the 582lbs needed (photo below), they did have 2 chances on fish which would of given it a nudge.
All up they teased 6 blacks in 4 days as well as 2 sails but missed our chances on the big fish.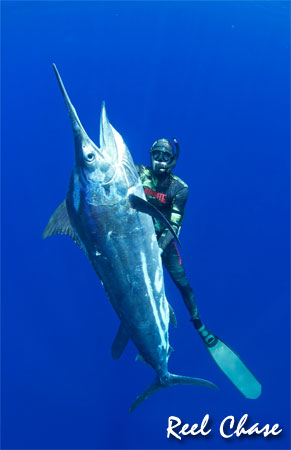 Weipa Billfish
I also have a catch up report from Weipa and what has been an amazing light tackle billfish season over there. If the sailfish action from a few weeks ago wasn't good enough, the little (little!) blacks are back now as well.
In Ben "Nosto" Bright's own words:
"It's been an unreal season here – backtracking a couple of weeks saw sailfishing in full swing – the frigate birds were indicating where the fish were free feeding on the surface and while they proved fussy at times, some awesome sights were seen (see photos below).  After some frustrating days raising over a dozen fish per day for only a few timid bites, the fish seemed to switch mode and began crashing trolled baits again for some great action.
Tony Katsaros joined me for a few days and went home with some memories of a lifetime – sails balling bait, free jumpers galore, at one stage, up to 10 fish all tailing in the same wave.  He was using a new micro jig rod (Gomoku) and was keen to catch a sail on it – and ended up catching 5!
Since then, it seemed like the fishery went a little quiet with a few mixed reports last weekend, while Darryl and Simone French released a sail on Wine Down while Tony Whittkopp released 2 sails and a black on Saturday (missing a few too) and 1 from 5 blacks on Sunday!
Confirming the return of the blacks was Duane Jay on Tuesday, going 3 from 10 raised – ALL baby black marlin!
A few more boats picked away at them in the last few days, but the common theme was a poor conversion rate for most due to the tiny size of these fish – I measured one at only 110cm (short length) – check the size of the tag to the dorsal fin (photo).
It seems like the beginning of the end though with an early monsoon setting in.  Fingers crossed for the inaugural ladies day comp being held on the 7 December."