NSW Mid North Coast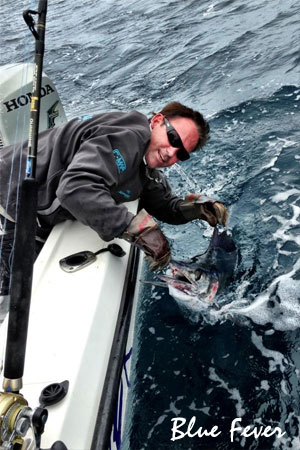 Mid North Coast report from Brett "Changa" Chain who has been enjoying a couple of days of pretty hot fishing across numbers of species this week.
Brett says that it's been little quiet on the billfish front of late due to the hot water not being pushed in close. With most holiday makers opting to fish for bread and butter species, the little blacks won't be in range for them until that warm water pushes hard against the coast.
On one trip wide a few days ago, they were piled on by a massive blue marlin which had 3 goes at the lure, but no solid hookup. There were also reports of wahoo out wide also with temps in the mid 25's.
Then, on Tuesday, Brett says they hit the fad bagging a swag of dollies and losing a couple of thumpers. With a marlin virgin on board, completely new to bluewater fishing, he then headed in closer to a good current line with heaps of bait and temp breaks in about 35f that they'd noticed days earlier, in hope of finding a little black. With the spread of only 3 Zacataks out, they were on within 20 minutes with the fish tagged and new angler Jake Henry no longer a novice. 5 minutes after the lures were back out and they were hooked up to double header. Both fish were tagged and with the rain now pouring and southerly winds pumping, and being that they were fishing in a centre console Blue Fever, they headed for home very happy at 11am. How's that for a good morning fishing, 3 marlin and a bunch of dollies for the table!
Update: following up again Wednesday, happy to report Brett had almost the same result again with another bunch of good dollies and another two little blacks!
Brett says that reports from others fishing in the area were that the bait fishing has again been pretty slow for the little blacks. His history fishing there shows that the mackerel usually turn up around the first moon of January and with that usually come the little blacks in numbers. Fingers crossed they are not far away with the moon approaching soon!
Thanks Brett!
Cairns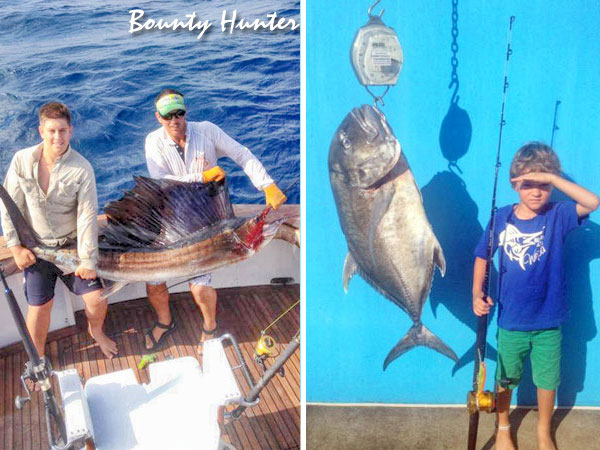 Capt. Darren "Biggles" Haydon, who is newly ensconced on board Bounty Hunter as their captain for 2014 year-round, is out overnight with father and son guests and went three from three on sailfish yestereday. One a piece for both boys and Dad including a double header!
And small fry angler Jet Edwards has just had his QGFA and GFAA GT record ratified – big congratulations to you Jet! The fish weighed 14.8kg on 10kg line to become the new Queensland and Australian record.
Upcoming Tournament
Botany Bay GFC's annual Bill Heyward Tournament is coming up on 17-21 January. Its now in the calendar and you can visit download the entry form here.