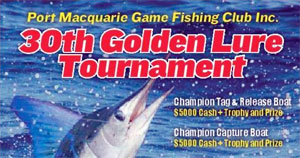 An update at the start of the Golden Lure comp from Steve Bedwell. Steve says that 32 boats and 120 anglers are ready to fish, and with the weather forecast looking good it should be a great competition.
Word is the small blacks have finally made their way down the coast in large numbers, also out wide 3 130kg-range blue marlin have been tagged in the last couple of days, as well as some bull dolphin fish which should keep anglers busy.
We look forward to updates as the tournament progresses!