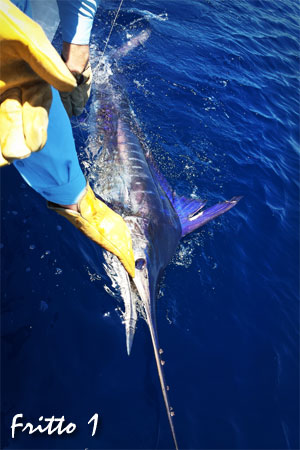 While we wait for the final tournament report from the Gold Coast (see Day 1 and Day 2 updates below) and an mid-tournament tournament from Port Mac Golden Lure, all eyes went to Port yesterday as it hits its stride already nice and early in the year. While there have been a few reports coming through here and there, it was all action stations yesterday for boats fishing (Sunday club major pointscore).
Thanks to Andy for his on the spot reporting – photo left from one of their 7 marlin yesterday!  The final tally for the day for Fritto 1, an impressive 11-11-7 which was made up of 4 stripes and 3 blacks tagged.  When the first bite of the morning a chaotic triple hookup on 80kg+ stripes, you know its going to be a good day.
This follows up from some good fishing at SW rocks the day before (reports below) and makes up a weekend slam. The final tally for the three days 21-18-9!
Andy tells me that other boats on the skeds were also getting a few with Capt. George Trinkler back at the wheel of Born Free again showing their class with a 10-10-9 – 8 black marlin and 1 striped marlin including 3 blacks for lady angler Sheridan Purvis and 4 black and 1 stripe to junior Josh Dickson.
Outside the big boats, the smaller boats were getting in on the action too.  Andrew Tuxford sent me this pic of a little black they tagged aboard Fuglie (22ft Stabbie) for owner Terry Lilliss out of Port Stephens on Saturday. Andrew says the water was a good 24.5c and there was plenty of bait around. He heard of several other tags among boats fishing Saturday as well.