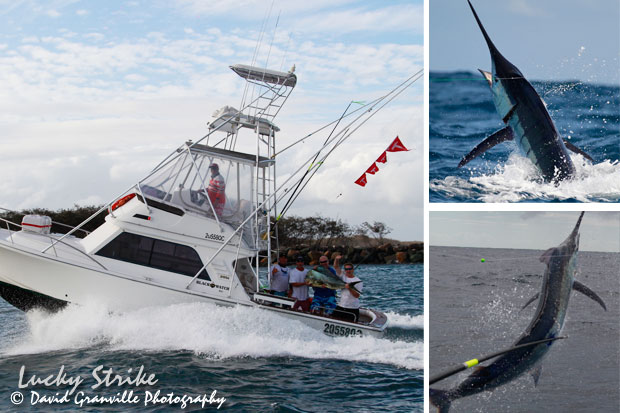 Gold Coast Light Tackle Masters
Gold Coast City Marina was the home to the 2014 Gold Coast GFC Light Tackle Masters held over the weekend. As you will know by the daily reports the fish showed up for the party. Although there was a heavy tackle component to the competition, there were no heavy tackle points scored as all of the action was on the little (and not so little) black marlin and striped marlin on 8kg.
There were a total of 64 marlin tagged over the three days from the fleet of 35 boats. With the format seeing teams choose their best two point scoring days from three, fishing went right down to the wire.  Winners are grinners as you can see above with Capt. Ross McCubbin's team on Lucky Strike taking out Champion Boat with 7 marlin tags as well as the Heaviest Other Gamefish with a 21.5 kg dolphin fish which you can see in the photo montage above – all of which photos were taken by David Granville who rode on Lucky Strike on Day 2. (If you are on FB you can see David's full gallery from the comp including boats entering and leaving the seaway here. All high res pics available for sale.)
Lucky Strike finished with 4 marlin on Day 1, 3 marlin on Day 2 (including a big striped marlin on 8kg) and 2 marlin on Day 3 – with Days 1 & 2 their highest point scoring days. Runner Up Team went to Pisces and Champion Under 8m and third place on countback went to the crew on Murphy's Law.
Thank you to Alisa for the official tournament report with the full list of winners which you can read here. Teams enjoyed fairly good weather for the whole three days apart from a bit of choppy season the first day of fishing.
Sunshine Coast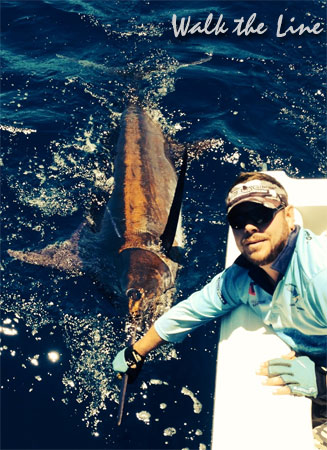 Great fishing again on the weekend for MGFC and SCGFC club boat (MGFC report in Sunday's blog post). Sunshine Coast GFC Club Captain Brent Higgins reports that Sunny Coast GFC are quietly going about their business with the goal to retain their GFAA tag & release Champion Club status for 2013/14 with nearly 150 billfish tags already year-to-date in what has been a steady season so far.
With the SCGFC Classic soon to be run & won on 30th Jan – 2nd Feb (I will add to the calendar this week) boats are venturing out and enjoying great fishing on both light and heavy tackle. The blue marlin season has been the most consistent in several years and a slightly late arrival of juvenile blacks has seen steady fishing for the last couple of weekends.
On the weekend several boats encountered black marlin from the 12-18 mile grounds. Reel Capture topped the score with 4 tags, Jublilado 3 and One Way 3 with 8 year old Bryce Bartleson tagging his first black marlin on Saturday to add to his already impressive tally of 2 sailfish. Other boats to tag blacks were Double Hauling, Capricorn, Walk the Line, Ruff and Tuff and Misty.
Fishing is shaping up well for the tournament and the SCGFC welcomes teams from near and far to come and enjoy the fishing, socializing and again juniors fish with free entry.
Video: SCGFC's Rob "Smithy" Smith also has done a video of a black from the weekend and one on a previous trip which you can watch it here!
Also Nick Currey tells me that Aluhra fished off Cape Moreton in average conditions on Saturday, finding blue water out at 100m line. They went 1 from 2, tagged a 25kg black marlin for Sophie Currey – photo below, congrats Sophie! Nick says that they have been chipping away with 1-2 marlin on regular basis since December. The fish seem to be scattered and not thick like last year.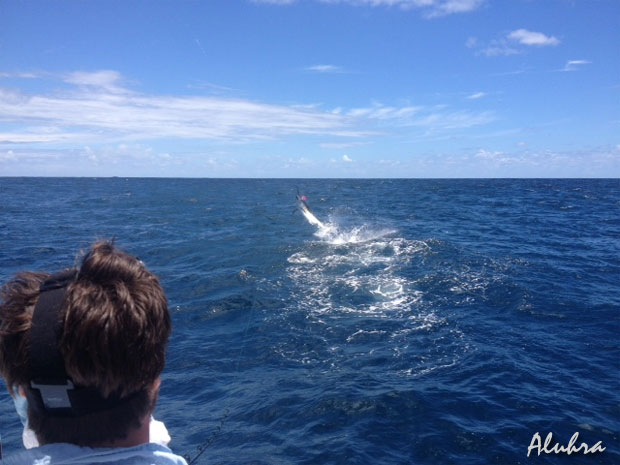 Peter Kendall, wife Danielle, son Lachlan 8, daughter Sienna 7 fished the Trench north of Moreton yesterday in their Grady White 330 Express Mighty Tonka. Peter says the went 3 from 3 on black marlin in the 20 to 25kg range all on 8KG. Danielle caught the larger one and the kids (with a fair bit of help from Dad) are claiming they caught the other two.  Peter says that all the fish were caught between 1.30 and 4.00pm and released in good shape. Well done to all the family – there's certainly some excitement showing there! (photo below)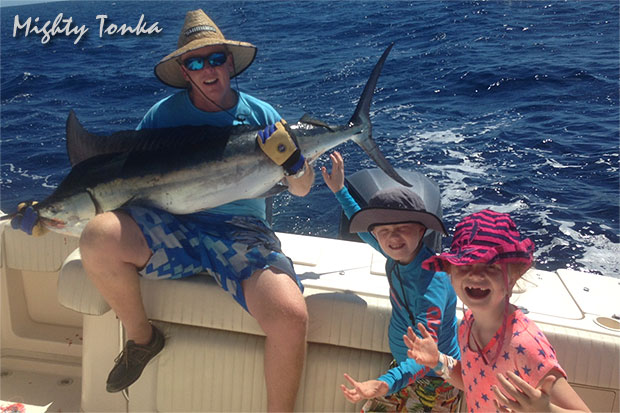 Newcastle GFC
First report from Newcastle GFC!
Heard a rumor (source unknown ;-)) that after 25 years on board with the team, Debbie Rocchi on board family boat Rocket finally decided to catch a marlin herself out from Port Stephens on Sunday (hoping for a nice easy 30kg stripe) and ended up with was a black marlin around 140kg on 24kg tackle instead.  Hooking up at 4.45pm and fighting into the evening tagging the fish at 7:15pm, not quite the easy fish she had envisioned. Great results for Debbie who weighs in at 50kg herself wringing wet and has never touched a rod before!
Steve Norris also tagged 2 and a special mention goes to John Poole who has returned to game fishing after a spell of 7 years due to a back operation, John also tagged one on the weekend.
The Newcastle Game Fish Club is now fully running and taking Membership for 2013 /2014 year. Please contact Larry Curtis – NGC President on 0419 692 900.
Sydney (Botany Bay GFC Bill Heyward)
With the tournament on the weekend there have been a few little blacks in the leadup in 50 to 60 fathoms, and out wider the blues as well – report via Nick Vella with Madness going 2-1-1, Leeroy  1-1-0 on a stripe, On Edge 4-4-1 with a stripe and lost 3 blacks solo fishing as well as a few other boats with fish around the 150 to 200kg mark.
Nick say that the weather is looking the goods for the tournament as well (hey, he said it not me!)
Merimbula
Big report from Nathan Brown:
Sensational fishing out the front Monday with most boats tagging two striped marlin each for the day with the action contained mainly in the 80-100 fathom area. Nathan reports plenty of bait around with some substantial size schools with marlin on them.  Shane and Jewel Coles onboard Reel Jewel tagged two, a great effort with only two onboard. Michael Hampson (with thanks for the info for most of this report) and crew onboard Jedi tagged two including one to novice angler Zac.
David Goodall and crew tagged two, local charter boat Reel Affair tagged one and Sterlo tagged one with more reported amongst the rest of the fleet. Most boats saw plenty of fish for the day with one raising 8 in the spread and seeing another 6.
Unfortunately strong northerly winds are forecast for the next few days, but it's going to be worth keeping a close eye on it and getting out there if you can. Nathan's call: it is quickly shaping up to be one of the best seasons in years!
Nathan is fresh off the Cairns Marlin Season on Hot Shot with Capt. Ian "Wobbles" Ford and has put together clip of their season highlights which you can see here. (I have some more marlin season clips coming over the next few days).
Ulladulla
Quick one from George Lirantzis again: Sunday on Side Effect tagged a stripe and lost another good black. George says that Highlander also tagged a stripe around 75kg and had two other fish in his spread. George was back out yesterday and already had fish up by 9am. More to come.