Golden Lure
The general concensus is that the fishing has fired at exactly the right time!  I've head comments from competitors (yes you Griffo!) that its the best blue marlin fishing they've seen.
After the first couple of days fishing, Steve Bedwell tells me that up to cease of fishing at 5pm on Sunday there had been 139 fish raised, the majority of which were blue marlin, followed by small black marlin and a small showing of dolphin fish.
There are 31 boats entered in the Bluewater Legal Carlton Mid Golden Lure 2014 .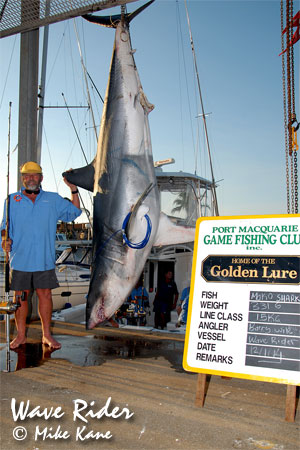 Fishing started at 9am on Saturday morning in near perfect conditions with the 1st hook up recording at 9:04am on the Long Time Dead who were still putting the baits out. A small black marlin was tagged by 9:15am – what a way to start!
Also one of the largest sharks weighed there for many years came to the gantry,  a mako shark weighing in at 331.6kgs on 15kg line for angler Barry Wile on  board Waver Rider. Steve tells me that Wave Rider has not missed a Golden Lure tournament in 30 years.
Yesterday the Tammy & Richard Kirkby Memorial Ladies & Junior Day was help. The major comp resumes on Thursday with Friday being the final day of fishing.
Thanks to photographer Mike Kane for the pic.
Gold Coast
Post tournament, Capt. Ross McCubbin on Lucky Strike hasn't slowed down. Ross fished in closer yesterday in shallower water and recorded a 6-4-4 black marlin. Ross says the smaller fish in shallow water in 60ms were all in the 20-30kg range.
Good to hear they are moving in close as well! Thanks Ross!