Exmouth just blew the entire east coast out of the water!
Monday was Day 1 fishing for the annual AIBT hosted again out of Exmouth, and also a prelude to the annual Gamex Tournament event which starts later this week. There are 40 boats competing, and by stop fishing yesterday at the end of the first day, they had collectively tagged 90 billfish! The breakdown was 3 sailfish, 5 blue marlin and 83 black marlin.
On the leaderboard X T Sea and Diversity are in front with 6 tags a piece closely followed by On Strike II and Pelagic Hooker each with 5 tags.
With thanks to EGFC and Jeni Gates for the update. Can't wait to hear more!
Back down off Sydney itself the bite has slowed a little from the big fish days of last week but there's still plenty of life in it yet (and fish in close) for the Simrad Broken Bay Invitational Tournament on this weekend. (More information here.)
A couple of unusual sailfish catches in these southern waters with Doug Robinson reporting a sail off Newcastle on Finjitsu on the weekend on 15kg, with another caught off the rocks at Jervis Bay!  And also stripes in close with Fritto 1 going 3 from 3 off Port for Troy and Steve – both 80kg stripes in close off the reefs in 40m!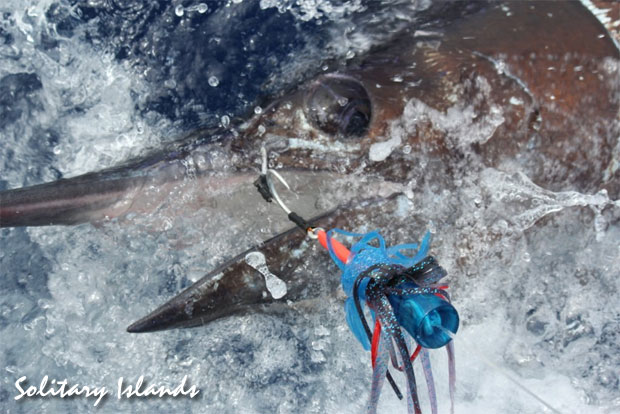 Off Coffs Harbour, the big downwelling eddy off the coast has started to weaken after weeks of suppressing all marlin activity. On Saturday during the Solitary Islands GFC regular club comp day, the blues came surging back into town as the deep edge of the continental shelf came alive just 15 miles off Coffs. 15 marlin were raised with 13 of those being blue marlin, and 11 of them were shared between just two boats, Black N Blue and Matador. The hookup rate was lower than usual for blues, and in the end, only 4 of them were tagged, plus one black marlin that got into the mix late in the day.
Hopefully this late season bite is a sign of things to come for the next couple of months and the upcoming Heavy Tackle Challenge tournament.
Likewise, the Sunshine Coast summer bite continues with Sunshine Coast GFC Club Captain Brent Higgins also reporting a good bite on Saturday up their way. Reel Capture was the only boat to brave the weather, but they made the most of it tagging 9, all to Channon Arbuthnot. Brent reports that Craig said there would have been more except their baits were under attack all day by hoards of wahoo!