AIBT Day 2
The Exmouth hosted AIBT continued on day 2 in much the same way it started – except it got even better. With 90 tags on Day 1 for the 40 boat fleet, they improved on that on Day 2 with a total of 102 tags!
The stats for the day were 269 raised, 189 hooked and 102 tagged made up of 11 sailfish, 5 blue marlin and 86 black marlin.
In the lead is the Diversity Charters Exmouth team on Diversity follow closely by visiting Perth team on Simrad and Our Time, a visiting Perth boat with Matt Gates as skipper are tied in second place.
Today is the final day of fishing for the AIBT while Gamex activities start Friday, the briefing on Saturday and fishing starting on Sunday.
The lovely Jeni Gates (who is missing out on being a part of all the action this year herself) tells me that the majority of fish so far have been small blacks with Team Azura tagging an estimated 350kg blue and several blacks over 100kg reported as well.
More from JB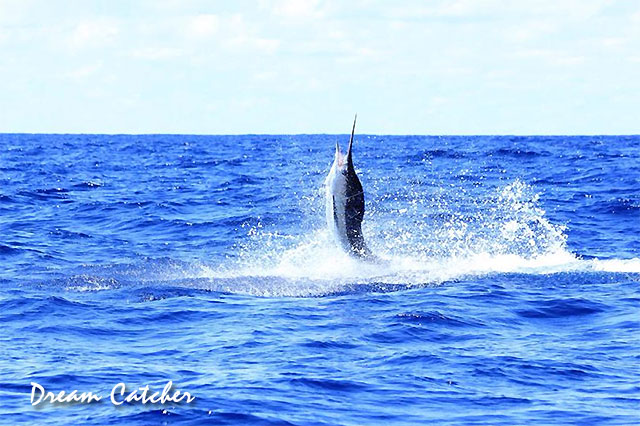 Sam tells me it not stopped at Jervis Bay either with both boats continuing to record good numbers. Yesterday Jamie on Samara Lee recorded another 12-12-8 while Richie on Dream Catcher went 10-10-5. Apparently several more boats have been getting in on the action as well.
Surfers Paradise All Tackle All Species
The Simrad All Tackle All Species (Surfers Paradise GSFC) tournament report is out. Full report below with thanks to Peter Hargreaves. Congratulations to Capt. Brett Alty and his team on Mistress who took out Champion Overall with two black marlin for Champion Angler Barry Alty and to the team on Jugs who took out the Heavy Tackle category with a black and a blue marlin.
Simrad SPGSFC All Tackle All Species Results
The event was held at Southport Yacht Club March 7 to 9 with 85 participants including 3 small fry anglers in total fishing on 21 boats. The final stats were – 92 strikes, 75 hookups 60 fish tagged or captured including 8 marlin (3 blues and 5 blacks), striped tuna 6; yellofin tuna 4; Spanish mackeral 8; kawa kawa 6; mahi mahi 14; spotted mackeral 11; and wahoo 3.
The 1st Billfish was tagged for Deb Munster on Outer Limits – a blue marlin and her first ever!
Last Billfish: Todd Hayden Ocean Dream Black Marlin
Champion Boat: Mistress, 2nd Jugs, 3rd Outer Limits.
Light Tackle
Champ Male Barry Alty 2 black marlin
Champ Female Ceri Nicoll 1 kawa kawa, 1 mahi mahi
Champ Boat over 7m Mistress 2 black marlin
Champ Boat under 7m Ripples

Heavy Tackle
Champ Male Matt Caelli 1 black marlin
Champ Female Deb Munster 1 blue marlin
Champ Boat over 7m Jugs 1 blue marlin 1 black marlin
Other Species
Champ Male Dave McCullum
Champ Female Ceri Nicoll
Champ Boat Lucky Strike
Team Small Fry 3 young Bailey brothers fishing with Dad and Grandad, caught 2 whiting and a bream. and took home an estuary outfit each for the Junior/Small Fry Encouragement Award. A top effort considering the weather!