Tournament Results
Official results from both the recent Broken Bay Invitational and Gamex at Exmouth have been released (read at bottom). It's been another busy weekend for tournament fishers with Back to Tanga 6 held over the week (results to come) and more coming up with the Solitary Islands HT tournament to run off Coffs this weekend coming and plenty schedule in April.
If you have a tournament for the calendar, send in the details via the 'submit a report' link below.
Weekend SEQ Reports
Among the good weekend fishing, some more blue marlin on the Gold Coast and plenty of practice for the Blue Marlin Classic next month with Mat Stehman's Murphy's Law reporting a 2-2-2 on Saturday, smaller fish est at 100 and 60kg.  Mat has been trying the switch bait program but tells me he went back to his winning formula on the Larvas on the weekend.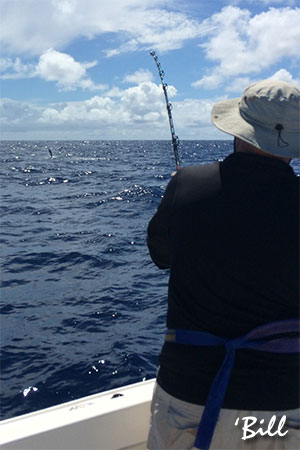 There is also another run of the small blacks keeping boats busy off the Gold Coast as it has on the Sunshine Coast. Grant Thomson went 4 from 5 yesterday on his cat 'Bill (as in Fuel Bill) with mate Jim Byrne (plus a dolly on the way home). Grant says all the fish were between 60 and 80kg.
And Capt. Brett Alty's Mistress went 2 from 3 black marlin on Saturday as well (photo top). Brett says that plenty of other boats were in on the action on both the blues and blacks.


GAMEX 2014 Official Results
Category HPS (Highest Point Scoring) Capture (fish) by Line Class;
1kg – Andy Sutton with a 5.9kg Queenfish
2kg – Jason Hornhardt with 11.8kg Narrow Bar Mackerel.
3kg – Jason Hornhardt with a 22.3kg Narrow Bar Mackerel
4kg – Connie Taylor with a 10.5kg Narrow Bar Mackerel
6kg – Will Roche with a 9.6kg Narrow Bar Mackerel
8kg – Rob Mitchell with a 9.6kg Wahoo
10kg – Phil Volicvi with a 12.9kg Wahoo
HPS Billfish on 1-15kg line class – Callum Offler with a 59.6kg Black Marlin
Heaviest Billfish on 24-60kg – James Roscic with a 312.1kg Blue Marlin
Champion JUNIOR – Will Roche with 2855 points
Champion FEMALE – Jo Decker with 3900 points
Champion MALE – Rob Mitchell with 6450 points
Champion Tag & Rlease Billfish JUNIOR – Hayden Michaels – 4700 points
Champion Tag & Release Billfish ADULT – Micheal Callan – 10000 points.
Champion Boat Tag & Release Shark: Mystic Knot with 3100 points
Champion Boat (HPS) Tag & Release Billfish Boat 7m and Under: Sea Eagle with 9300 with points
Champion Boat (HPS) Tag & Release Billfish Boat Over 7 m: X T Sea 11600 with points
Champion Boat (HPS) Tag & Release Sailfish: Y Stress 2000 with points
Champion Boat (HPS) Tag & Release Marlin: Mahi Mahi III with 11300 points
Champion Boat Overall: Wet Dreams with 7066.67 points
George King Memorial Trophy: Bernie Vale 29 tags
Steve Pitman Memorial Trophy: Rob Mitchell with 11 Line Classes and 9 Species
Simrad 2014 Broken Bay Invitational Tournament Report
This year's Tournament has been run and won with 55 boats and over 200 anglers taking part.  In the tag and release section Gorilla dominated the weekend with some great blue marlin fishing on the Saturday coming in with 3 tags which was enough for them to win Champion Boat Tag and Release. They also weighed a fourth at 141kg.
Second place Tag and Release this year went to the trailer boat team on Hold Up with the champion female angler Claire Graham on board while the Champion Trailer was taken out by the team on Watergirl who caught their first striped marlin in the boat on Saturday after many years of trying and the backed it up on Sunday with their second.
Champion Male angler Tag and Release was won by James May fishing on Watergirl who was fishing only his second tournament ever. Champion Junior angler Tag and Release was taken out buy Jarrad Bryant fishing on Sniper.
In the Capture section one of the clubs valued long term sponsors Viking Diesel and Electric crew on Rampage backed up their Interclub victory with a great blue marlin to Ryan Page on 15kg to take out Champion Boat Capture. Second place Xcelerate with a tiger shark on 15kg line to Robert Brown which also won Robert the highest point scoring shark award. Gorilla's blue above was enough to put them in third on the capture side as well!
The $6000 Black Pete Marine prize for Heaviest Blue Marlin over 150kg did not go off this year but the hard luck story has to go to the team on Finactic with a Blue that went 149.2kg missing out by a mere 800grams. This prize has been rolled over and will be up for grabs next year so blank out the 3rd weekend in March for the Simrad 2015 Broken Bay Invitational as it will be the best value big money tournament of the Tournament season.