Back to Tanga 6
The MBGFC-Shamrock Civil Engineering Sponsored Back to Tanga 6 competition was run out of the clubs base on Moreton Island over the weekend with 26 boats and 98 anglers plus 8 crew registered.
Friday's weather was tough with boats grinding it out on a 2-2.5m easterly swell and15-20 knot wind. Boats commenced fishing at 07:00 out of locations from the Gold Coast up the coast to Mooloolaba with the first marlin was called in from Mooloolaba fleet at 7:08am and the northern boats experiencing a hot morning bite at the 12 and 18 mile. The rest of the fleet found plenty of bait of Cape Moreton, but only gamefish with no billies. Day one ended with 85 strikes, 66 hook-ups and 54 fish landed with 10 black marlin and 2 sailfish tagged.
Saturday saw the wind drop out and conditions more boat friendly. Back up at Mooloolaba another morning bite was on with a number of marlin and sailfish tagged. Further south fishing was slower. All up 19 billfish were tagged with plenty of gamefish weighed and tagged. Saturday night all the boats came back to Tangalooma for weigh-in, tall stories and a great feed with the bar open. "Full House" band played some great music till midnight. Sunday morning presentation saw the following winners:
Champion Boat over 8m – Bangalee – 7,600 points
Champion Boat under 8m – Dragon Lady – 4,900 points
Champion Senior Male and Overall Angler – Michael Wrack – 4,500 points
Runner-up Male – Grant Cooper – 3,285 points
Champion Female Angler – Debbie Dahl – 1,500 points
Runner-up Female Angler – Georgina Wrack – 1,500 points
Champion Junior – Max Proctor – 3,400 points
Runner-up Junior – Bree Thompson – 1,500 points
First and last billfish tagged on day 1 – David Trask & Max Proctor
First and last billfish tagged on day 2 – Michael Wrack & Rick Winsor
Champion MBGFC Angler – Matt Rutkowski
Many thanks to the Sponsors and to the Tournament committee who made it a great event and to all the Anglers and Crews who participated. Thanks to Nick Currey Moreton Bay GFC VP for the report!
Ulladulla – More hot fishing on the weekend
Quick report from George Lirantzis' Side Effect who ran out at 11am on Sunday to go 4 form 5 in a pretty hot bite. George says that Lisa accounted for the first 3 then it was his go. That was following up from 1 from 3 on Saturday. George also says that Blue Alibi was in fine form going 7 from 10 while Mayhem went 4 from 6! Great shot at top!
More from JB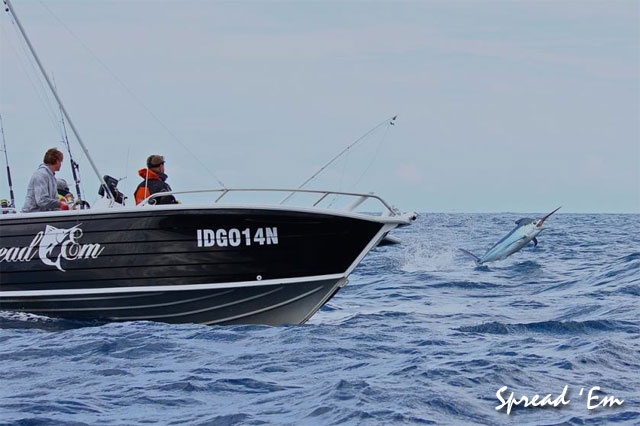 And another report from Sam Owen's Spread 'Em last week fishing in 600fa SE of the Kink at JB. Sam had Ben Kiggins and his younger brother (and marlin virgin) Dane on board late last week and came across a bait ball full of marlin on the surface. Without livies they could only convert the one from 8 but were stoked to make one stick for the young Dane – his first black estimated 50kg. Shot above of Danes fish below another that Richard Abela took the week before.