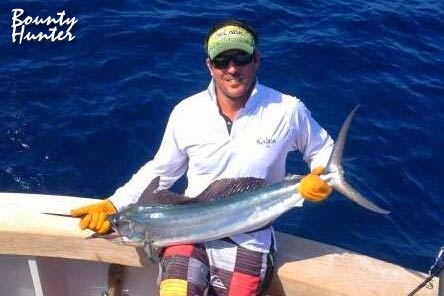 Capt. Darren "Biggles" Haydon on Bounty Hunter is the latest to encounter some of the teeny juvenile black marlin off Cairns. On a day trip on Saturday, they released two of these toddler models as well as some a couple of GTs as well as tuna and mackerel for the table.
On the Sunshine Coast, Lachlan and Paddy and team on Catapult went 6 from 10 also on Saturday on the blacks on fish a couple of sizes up. Lachalan says the hot bite was all between 7:30 and 11am with the fish all in the 15 to 25kg range. They also missed a bigger fish about 50kg which jumped around with the bait jig!
On the Gold Coast, Capt. Brett Alty's Mistress found one too a fair bit bigger. Brett says that the fishing was tougher on the southern side on the weekend with zeros on Saturday. On Sunday, the found a nicer one for visiting US angler Bob Osborn. Brett tells me Bob has fished world wide and at 73 years old is friends with all the top captains. He caught a 160lb fish on 16lb (photo below).
And off Port Stephens as well, more inshore blacks. Capt. Tim Dean's Calypso reporting 7 from 2 trips late last week.