James McGinty, President of the Solitary Islands Game Fishing Club, reports that their fourth Heavy Tackle Challenge fished out of Coffs Harbour was held under clear skies and light winds. The weather leading up to the tournament had been somewhat iffy, but it remained glorious for the entire weekend.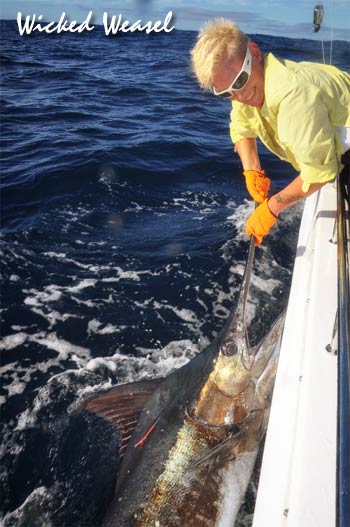 Twenty boats competed, and there were six blue marlin, two black marlin and sundry yellowfin tuna, wahoo and mahimahi tagged, with two yellowfin being weighed — 38.5 and 39 kilos — both of which were caught aboard Better Than Vegas. Most boats had one or more marlin bites, but as usual, getting them to stick was another matter.
Champion boat was Sweet One II with two blue marlin and five mahi mahi tags.
Second place was Magnum with two blue marlin and a wahoo, and third was Wicked Weasel with one blue marlin.
Pictured is Lynette Robb with her blue marlin caught aboard Wicked Weasel.