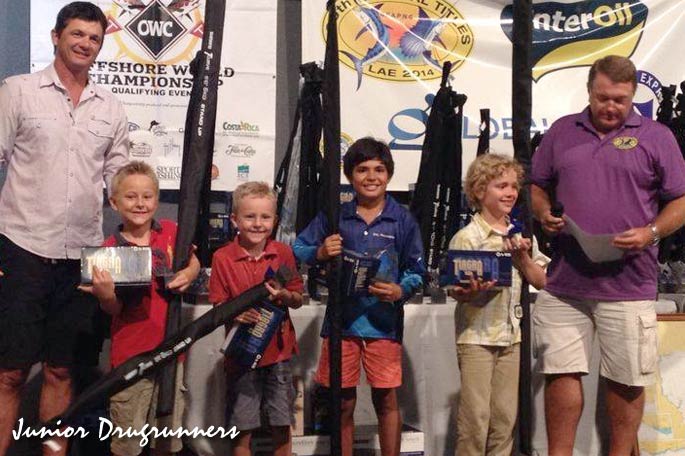 With 477 participants from all over PNG, Australia, New Zealand, South Africa, America competing on board 46 boats, this year's PNG National Titles were hosted by the Lae Game Fishing Club. Each year the tournament moves location. Last year's event was held out of Madang.
Overall there were more than 550 fish captured or tagged during the event including 47 billfish (blues, blacks and sailfish). Some of the notable captures included a 53.7kg yellowfin tuna for Patrick Seeto and a 155kg black marlin.
There were also three (pending) new national PNG records –
Men's Mako Shark record for a 83.7kg fish on 24kg to Port Moresby angler Leon Shi. The fish was captured during the Billfish Shoot Out day competition so unfortunately did not count towards his score for the week.
Men's Wahoo Record for a 14.7kg fish on 4kg to visiting international angler Anthony Marsh
Junior Rainbow Runner record for a 4.5kg fish on 6kg to local junior Lucas Seeto
Overall I'm told that the junior anglers stole the show also taking out five of the adult trophy categories in addition to the junior ones. 11 year old Marcel Whitfield of team Junior Drug Runners was a standout. He tagged his first ever sailfish (on 8kg) and took out a bunch of categories (see the full results below). Just to clarify, the O'Brien built 47 Drugrunner is owned by the King family who are in the pharmaceutical business – hence the name!
I also heard from our own Capt. Laurie Wright (Australian Fishing Expeditions) who was just one of a very strong contingent of Aussie fishing personalities taking part in this year's event. Laurie was driving the boat Satisfaction for the tournament, who accounted for many of the trophies themselves and credits the tournament committee for a very well organised event.
Team Satisfaction (Phil Franklin, Travis Franklin, Nick Hill and Tim Simpson) won Champion Boat Tagging and the Light Tackle Tagging category (6 and 8kg line class).  The ladies' team Marlin Darlinz (Aysha Franklin, Margot Cunningham, Emilie Franklin and Louise Franklin) took out the Medium Tackle Tagging category (10 and 15Kg line class) also winning free entry into the 2015 World Offshore Championship to be held in Costa Rica. While Phil Franklin won most species tagged.
The full trophy list is here. Congratulations to all!
If you're interested in finding out more about the titles, visit the PNG Game Fishing Association's Titles page.
Thanks you to Lae GFC's Helen Taylor for the results!