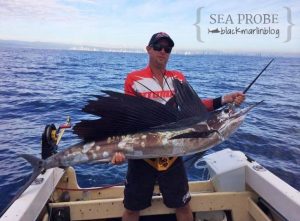 South east Queensland is still a hub of action. Among recent reports this sailfish for Chad Woodbury.  Brother Gavin of Sea Probe fishing charters took him out in his little boat off the Gold Coast yesterday morning for a Spaniard fish, and got lucky with this unexpected by-catch! (And a nice feed of mackerel for dinner too!)
Sunshine Coast GFC's Club Captain Brent Higgins is also reports a mixed bag from the northern end. Besides Never Home's blue for Kourtney (post below) there have been a few blacks hooked and missed as well as success for Reel Hunter who released two sails and a micro black over the weekend.
Yesterday David Granville was out testing his new boat (name yet Dave? Update: the name is Cover Shot) and spotted a large broadbill tailing in 60m while Jay Graham spotted a striped marlin tailing near the banks while snapper fishing.
And a catch up report from Daniel Smith who reports a blue on Friday off Moreton Canyons on his boat Game Plan. Daniel says that the fish never jumped and went straight down on the take – unfortunately dying after 30 mins.  It took them another 3 hours on 37kg to bring it to the surface. It weighed 245kg with a 2.9m short and 1.36m girth.
Daniel reports that the fish was not wasted as the fillets were given to onlookers and a genetic sample passed on to Mike Bennett. They ended the day 1 from 2 missing another solid blue first up in the morning.
BMFB Housekeeping
You may have noticed a few things changing over the last few weeks on the blog.