Weekend marlin fishing reports from North Queensland (Cairns and Townsville):
The weather gave fishers in North Queensland to enjoy some time on the water. Reports are still coming in but a few to start us off.
In Cairns, Capt. Darren "Biggles" Haydon on Bounty Hunter made the most of all three days fishing Friday, Saturday and Sunday. Biggs tells me they went 3 from 3 on blacks on Friday (and 8 mackerels, the Spanish are biting!), 1 from 4 Saturday ( one for junior Jack on right below) and a sailfish and another 10 mackerel yesterday (on left).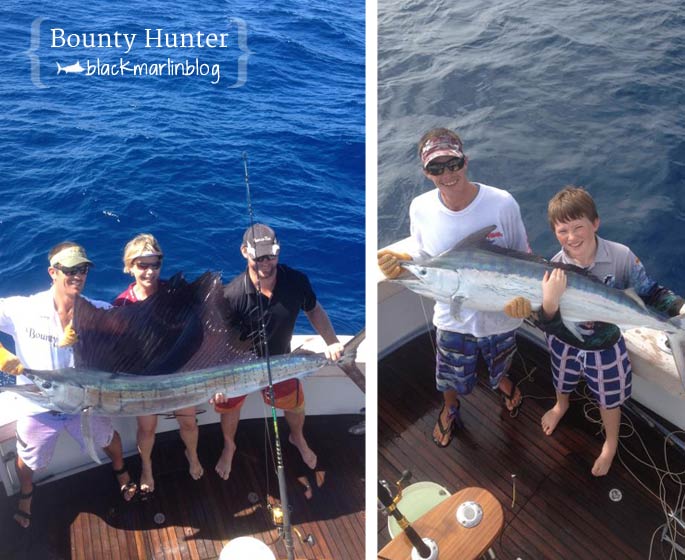 Meanwhile in Townsville, we fished with O'Brien Boat's Peter and Val O'Brien yesterday for a social day on OB1 with some pretty fresh SWs in the morning easing to absolutely glamourous conditions in the afternoon — and enjoyed a bit of friendly rivalry (read endless good-natured ribbing and needling on the airwaves) alongside the crews on Reel Crazy and Silverback.
I think the final figures were 3 from 5 for us on OB1, 3 from 6 on Reel Crazy (on countback ;-)) and 1 from a couple raised on Silverback. The fish of the day went to Renee on Reel Crazy who copped a lot of flack no doubt from her crew eager to get the fish to the boat, battling it for over an 1 hour – hooked perfectly in the corner of the mouth!
Photo I took of one of Val's fish at top.
With a couple of tournaments coming up, there's sure to be more pre-fishing as the weather conditions allow!