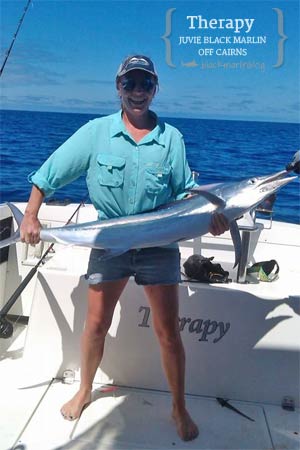 More reports from the weekend:
Cairns: A first marlin for Tina fishing with partner Anthony and Chris Henderson on Therapy fishing the wide grounds off Yorky's Knob on Saturday. Well done Tina!
Meanwhile, Darren Ross also reports a fantastic day off Oyster Reef on Saturday with Darren and Nick Connor, both catching their first black marlin on board No Name II. As Darren says "Bring on the light tackle slam!" (postponed due to weather!) Photo of  at bottom.
And Capt. Alex Johnston's Shikari was also out on Sunday going 2 from 4 on the little blacks.
Meanwhile off Townsville yesterday, Michael Winterton reported a 8-4-2 on fly. Mick says that the tease was fun with just the two of them aboard his September Blue and the bite was hottest between 3 and 5.  With the weather forecast the way it is, the afternoons look like the time to be on the water this week. (Photo at top.)
And another from the west, Blue Lightning's Leah reports that the weather has been giving them a rough run over that way but Dingo was happy he got his very first marlin on the last trip in 25 knots. Dingo was lucky, he got the rod as 3 of the other guys on board had already had their share previously as they were on board with Captain Chad when they top scored for the day with 31 billfish (in one day!)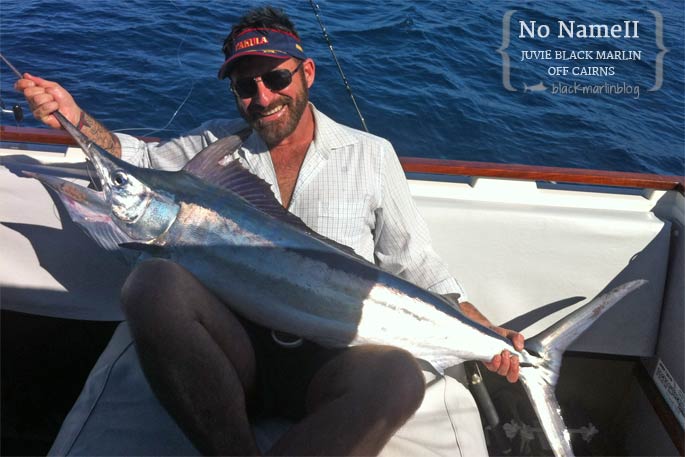 Would love to see some of these fish left in the water guys! Just saying…