After an impressive 91 tags reported on Day 1 of this years Cairns Bluewater GFC Billfish Tournament hosted out of Fitzroy Island, all eyes went north! And although the following two days of fishing could not match the first day's results, it was still a very impressive showing with a total of 178 tags (168 black marlin and 10 sailfish) over the three days of tournament fishing.
Captain Darren "Biggles" Haydon's team on Bounty Hunter lead from the outset with 8 from 12 on Day 1 and left the rest of the fleet playing catch up. But following up with 4 tags a piece on both the following days they couldn't be overtaken and took the trophy with a total of 16 tags from 22 bites – all little black marlin for the team consisting of Greg, Dan, Denise and junior angler Morgan who took out the Champion Junior gong.
Cairns based Black Magic took out second place with 11 tags. Cameron Bartlett was the skipper, with one brother Tommy deckie and the other brother Ryan angler with his wife Kellie – keeping it in the family! Ryan won the Champion Angler award and Kellie was Runner Up Champion Female angler. The breakdown was 1 sailfish tagged and 10 black marlin (thanks Victoria – who missed out on fishing – for the update!)
Some other teams in on the mix included Capt. Chris "Sharky' Miles on Levante who kicked off with 7 tags on Day 1 to be hot on the BH heels and finished the tournament iwith 11 tags as well (actually 12 but self disqualified 1 fish!)  Capt. Damian Colette's Saltaire shook off an unlucky day 1 (1 from 7) to add 7 tags on Day 2 to put him into the mix as well (finishing just behind on 10).
And a very good showing from Masterbaiter's Jay Edwards with son Jet and Weipa's Darren Lee who fished all three days – and in true 25knots on Day 3 – in Jay's 5m tinny!  Young Jet caught his first marlin on Day 1 (thought he's already a record holder so not a newbie to fishing by any means!) and followed up with his first sailfish and another black on Day 2 to take out Runner Up Champion Junior with his three tags. Jay and Darren accounted for another 4 between them to total 7tags for the Masterbaiter team to take out the Champion Small Boat Category.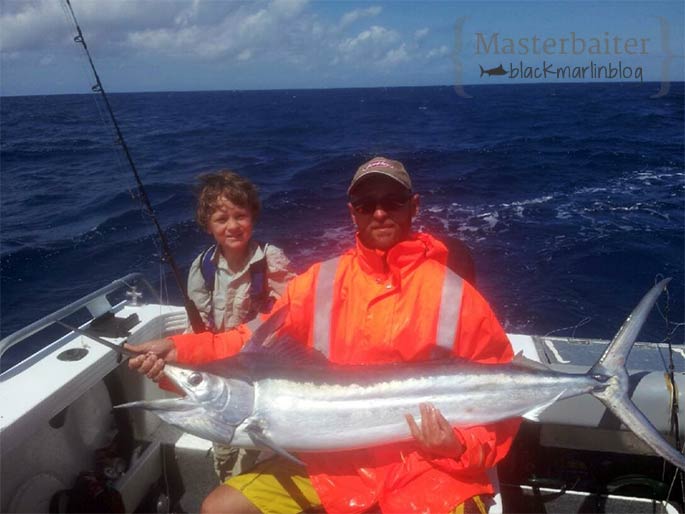 Last year's winners, Capt. Steve Ahlers Hellraiser tagged 8 all up including 6 tags for Sue which gave her the Champion Female Angler award.
And two Sunshine Coast GFC teams fished as well including Heath Irvine's Kamikaze with Curl Foster, Jay Graham and Brett Barton. Despite spending much of Day 1 in port with engine issues, the team enjoyed another great event with 1 from 3 on Day 2 and 4 from 5 on the final day with all 4 caught in the first 2 hours!
I also heard that the big boat, The Boss was on hand for some great entertainment including a live band on Saturday night on the water in the bay!
With thanks to the Cairns Bluewater GFC for the official results which are:
Champion Senior Male Angler – Ryan Barlett – Black Magic
Champion Senior Female Angler – Sue Ahlers – Hellraiser 2

Champion Junior Angler – Morgan Brown – BountyHunter
Champion Team/Boat 7.5m & Over – Bounty Hunter
Champion
Team/Boat Under 7.5m – Master Baiter
Champion Overall Team – Bounty Hunter