Cairns reports: I heard from Capt. Brett Alty on Mistress who has been catching some more big fish. Will try and get the details on those. Also a report from Capt. Laurie Wright who is at the helm of Calypso this week who went 2 from 3 yesterday with an 800lb-er and 200lb-er for Damien and Bud from Victoria at St. Crispin's. Congrats guys!
Up higher on the Ribbon's, reports are few but the fish are around. Capt. Tim Richardson's Tradition saw 4 Sunday jumping 2 off (and got a nice 60 lb wahoo for the table). Yesterday Tim says they pulled off a reasonable one and had the bite out of another.
I also got a message from Gus Kennedy who is fresh back from five day charter with Capt. Bill Billson on Viking II.  He's done a 'quick' edit of a day on the reef – well worth a watch! The angler was Dave 'Bagwah' McPherson with a helping hand from Brett Richards and Gus Kennedy. Gus said they started with one at 450lb at Lena and another at 400lb in the capable hands of Dave 'Bagwah' McPherson.
Viking II // A Day on the Great Barrier Reef from ASK on Vimeo.
The results from the weekend at Weipa – thanks to Andrea Kennedy for sending!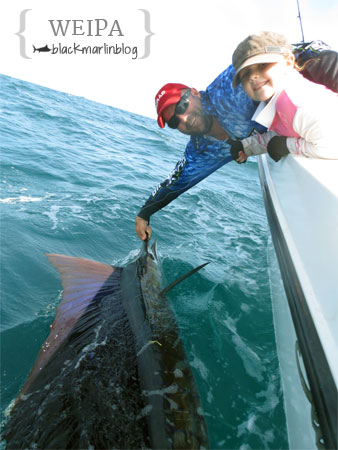 Reg Moore on Duyfken 8-6-5 sails
Darren Lee on Tag Team 4-3-3 sails
Gaven Roberts on Striper 3-2-2 sails
Darryl French on Wine Down 6-6-4 sails and one black marlin
Kristy Philliskirk on Mofo 6-5-4 sails
Duane Jay on Get n Any 10-7-7 sails
Photo: Weipa Billfish Club's Junior member Emmi Roberts (8 years old) with her second sailfish for the season.
And here's a photo of Ash Warland's sailfish at the Whitsunday's as mentioned in yesterday's report.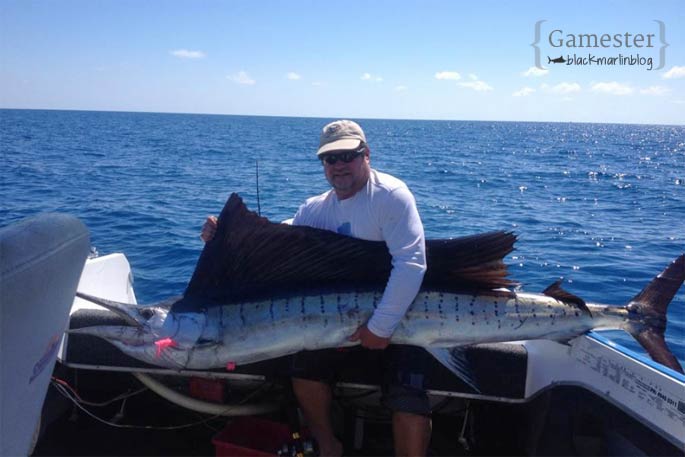 Off the Gold Coast Ashleigh Haigh reports that there is still no shortage of big tuna busting up on the Gold Coast. After the potential record last week he found another nice one that weighed in a 58kg east of the Seaway with another Gold Coast GFC members Darren Malaquin on board Reelaxation owned by Keith Sleeman who was angler on the fish, his first yellowfin.