I received some great shots from Mike Hallam who was fishing on Amokura of Onsite's big fish from Thursday above as well as one of Viking's big fish (below) from earlier this week as well. Great shots Mike, thanks for sending!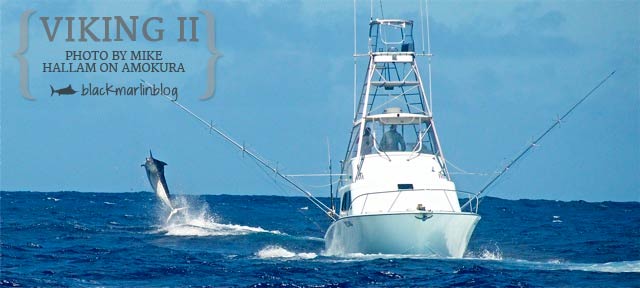 A catch up report from Capt. Corey Hard's Askari who started another 30 day marathon trip with the Dreamin' On crew yesterday with two fish at 450 and 300lbs.  Corey tells me that they fished the previous 7 days from Number 2 to Number 10 Ribbon and caught 14 for the trip including two big fish and 4 others 500lbs or better.  They caught a 750lb-er, 600lb-er and 450lb-er in one day and a 950lb-er, 500lb-er and 350lb-er on another.
But over all a quieter day on the water with many boats heading in early to secure a prime spot in Cooktown in the leadup to the Lizard Island Black Marlin Classic which starts tomorrow (out of Cooktown this year).   Still out on the reef, Capt. Dean Beech on Onsite added another fish about 300lbs, Capt. Adam Jordan's Iona went 1 from 2 at 350lbs and down off Cairns, Capt. Alex Johnston's Shikari returned from 3 days at the Bank with his guests from Sweden going 4 from 4 with all getting their first marlin at 800, 700, 400 and 300lbs. Well done guys!
And another from Cairns, a report from Dylan Brier-Mills who was fishing on the 6.8m trailer boat Hammer and seeing some action with a fish around the 400lb getting wrapped up and busting them off after a quick surface display. The next fish did stay connected with angler Declan Williams getting his first heavy tackle black that skipper Jason Preece called 500lbs, and a first for Dylan on the leader.  Fishing their way to Opal Reef in the afternoon they hooked another fish around 800lbs that Dylan was in the harness for but the line was cut by a toothy critter.  The fish were on 80lb stand up tackle.