Season 2014 has been a completely different kettle of fish to previous years with the best fishing holding up on the reefs to the north, in particular Ribbon Number 10, for the majority of the season. In recent years though, the opposite has been true with the fleet following the fish back to the Cairns vicinity from quite early in November. In fact, I remember one year, not so long ago, that no fish were caught on Number 10 after late October.
But here we are, drawing closer to the end of the season and the fishing has finally returned to Cairns (yet to see if Number 10 has one last hurrah!) and the famous Linden Stadium. That was certainly the case yesterday with over 15 boats fishing the area and the lucky few catching. 
Capt. Brad Craft's Castille III continues his late run adding another big fish yesterday. Capt. Corey Hard's Askari likewise with a fish that Corey put at 900lbs.  Capt. Kim Andersen on Duyfken released one that he put at 850lbs and jumped a smaller one off. Capt. James "Jimbo" Bladin on Black Magic caught one at 600lbs and Capt. Chris "Sharky" Miles on Levante got a mid-ranger as well.
I also had a message from Capt. Dan Bergamo on Wild Turkey who put his 70 year old lady angler Rose onto a fish they he put at 999lbs+.
Musgrave and Fraser
Cjig's Grant Thomson is making his way down the coast after spending some time in Cairns. They had a curious whale shark come and say g'day at Myrmidon when they spent the day there last week (photo).  But now they are getting closer to home and went 1 from 3 blues off Musgrave on the way past and 1 from 1 blue marlin yesterday off Noosa canyons. While they were at Musgrave they rafted up in  the lagoon with Megumi who went 2 from 2 fishing nearby.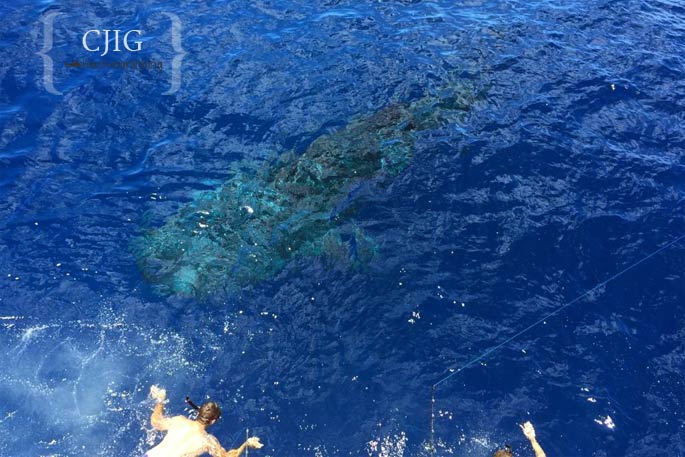 By the sounds, Rooney's Point at Fraser continues to fire for the juvenile black marlin. Brett Pheeney sent me a couple of videos of fishing the flats. Part 1 and Part 2 below.