Happy New Year to all!
And good news the marlin bite stopped for noone!
Sunshine Coast: Some great pics have come in from John Dwyer who was fishing on Ymer with Ben Stasiak on December 30 (and they are awesome pics too John, thank you!)  Ben tells me that the bite was pretty continuous all day with boats hooked up everywhere.  He said they had a big of a tug of war with the dolphins who were pinching a lot of their live baits, making it a little harder, but nonetheless they had a fantastic day. And wouldn't you with 13 blacks and 2 sails for the day?!
Ben says other boats nearby had cracker days as well, for example Galaxy with 9, Chaos with 12 and Raise a Bill who were approaching 20 in the late arvo when they left!
Flip through the gallery below, there are some really beautiful pics there!
Gold Coast: Capt. Ross McCubbin has likewise been at it again this time on the Reel Busy with 5 from 10 in the 40-90kg range on the 30th and another 6 on New Year's Eve from 40 to 120kg for Craig and Jim!
Port Stephens: On New Year's Eve again Muzza was at the wheel of Gunrunner for another 2 from 2 (one of which was a stripe in the BIG category for Port). Scott reports that it was a fair bit tougher work, and that the water is changing a lot with some warm water rolling in after lunch. While there was a lot of high scattered bait there weren't too many fish in it.
Sydney: Bruce Rayment tells me that PHGFC boat Avalon tagged a 70kg striped marlin on Tuesday 30th on the edge of the shelf east of Port Hacking for Chris Wienholt. The fish took the long corner lure and was boatside within 30 minutes on 24kg tackle. That's a Black marlin and striped marlin selfie in the last 3 weeks for Avalon off Sydney.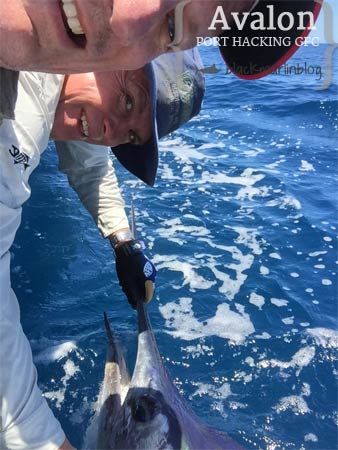 What does 6-6-5 mean?
I get this question a lot and never more than this time of year when the billies are biting all the way along.  The short answer is that the numbers represent strikes-hookups-tags/releases. So a 6-6-5 would be 6 strikes, 6 hookups and 5 successful tags or releases.