With a big thank you to Vince Lopardi for the report!
BBGAC – Blue Water Classic
Over the Australia Day long weekend the Bermagui Big Game Anglers Club (BBGAC)hosted another successful Blue Water Classic. Club President Paul Blacka was overwhelmed with the attendance and success of anglers overall and thanked the many sponsors for their support and contribution.
A total of 78 boats and 302 anglers competed in this year's event with the weather conditions favourable for most of the 3 day tournament.
Competitors from 15 Clubs competed including teams from Bermagui, Exmouth, Perth, 8 clubs from Victoria and 5 clubs from the NSW South Coast.
Overall, a total of 82 striped and black marlin were tagged and released over the 3 days. Day 1 was described by many as marlin mania with 52 tags and probably just as many hooks ups lost – an outstanding effort! 6 mahi mahi were also tagged and released and only one capture of striped marlin weighing in at 96.6Kg by female angler Sharon Garbett on 10Kg line – another outstanding effort.
The Most Marlin Tagged by a boat over 7.1m went to Denis Lucardi and the crew on board Haddaraddit with 6 marlin and Most Marlin Tagged by a boat under 7.1 went to White Wash with 4 marlin.
Highest point scoring tag and release male angler went to Mark Trew on board Panlicker with 57500 points. Highest point scoring tag and release female angler went to Tegan Lucardi on board Harddaraddit with 46000 points. Highest point scoring tag and release junior angler went to Cooper Mills with 11500 points. Highest point scoring tag and release small fry went to Mathew Sandy with 11500 points.
Download the full T&R point score here.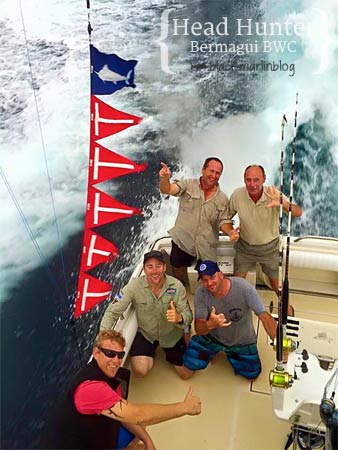 I also heard from Nathan Brown's Head Hunter who was one of the boats competing who tagged 5 from 6 on day 1 and losing number 6 due to unfortunately breaking a hook.  They added another on Day 3 to put them in 2nd in the number of marlin tagged on countback also with 6 tags.
Nathan also reports that there was a hot bite for boats fishing home on Monday and Tuesday (a bit of which we heard yesterday from Darren and Lee below).  Michael Hampson fished his way home in Jedi II to Merimbula on the last day of the comp caught one just inside the boundary before finishing up with a 15-9-5.
The following day multiple boats converged on the action – bait balls, tailing marlin and free jumpers with Nathan reporting Seahog with 7-7-6, Flying Dutchman 8-8-5 (solo!) Shockwave with four, What For! with two and The Jock came down from Bermi also and got at least one.
On their way home in Head Hunter, Nathan threw the throttles down to get there at about 3pm and within minutes were on a double header (pulling the hooks on one fish). Blue Yonda and Gamechaser fished north and found a little patch all to themselves (Gamechaser with a double hookup combo of a marlin and a mako!) while Blue Yonda tagged three for the day.
Highlight reel from on board Head Hunter
Port Stephens
I put it out yesterday asking what was happening at Port and got a few responses. Nathan tells me that he tagged a black there last week. And Dave Tucker send me this pic of a black caught on a Marlinstar lure trolled on the shotgun, while trolling skip baits. Angler Zach Symons catching the fish on his birthday onboard Haulin' (photo taken by Cam Symons, Zachs father).
Hopefully with more of the fleet arriving in port in the last few days and over the next few and boats competing in the Lake Mac Big Fish Bonanza, we'll hear more.