There was some more great black marlin fishing along the east coast from the Sunshine Coast through Sydney over the weekend. And thanks to Craig Kermond and Nick Vella we have the 2015 28th Shimano ~ Sylvania Marina Bill Heyward Memorial Tournament report.
Starting at the top on the Sunshine Coast: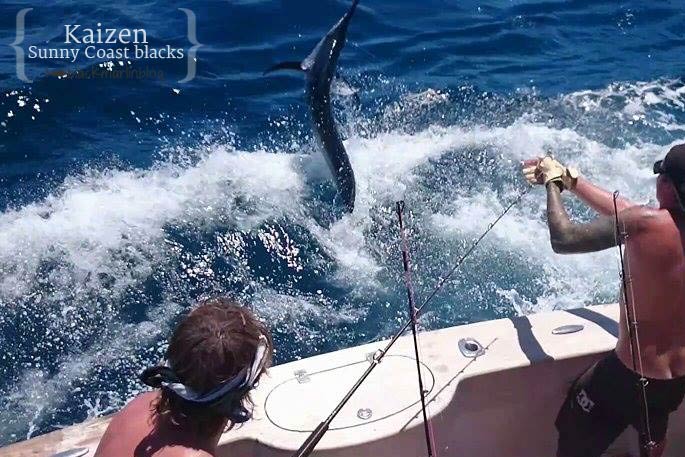 Lachlan Tuckwell joined Capt. Russell Caporn on Kaizen yesterday with a few mates and enjoyed a great day on the water with great weather. They finished up the day with a 3-3-3 on blacks marlin with Brayden James, Zac Gibson and Jayden Grace all getting there 1st marlin each.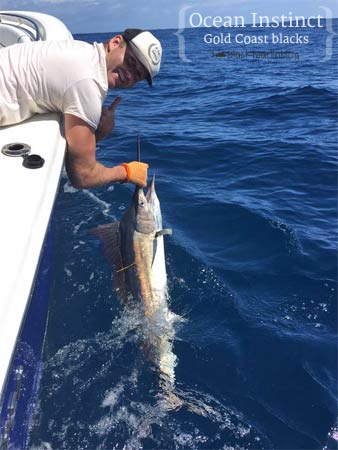 Meanwhile the hot summer off the Gold Coast just gets better and better. Among the action again was Glanville Heydenrych on board his Ocean Instinct trailer boat. Glanville is taking advantage of the good fishing to give the 4kg black marlin record a go and while they didn't get the right sized fish to the boat, they still managed an impressive 7 from 9 on all on 4kg tackle, fish ranging from 10-35kg range!  (And 2 dolphin fish for dinner!) A sensational effort!
He followed up again yesterday with 4 from 4 solo including a successful double hook up (solo!) and was still home by 11am! A pic of the runt of the fish released on Saturday which was previously tagged and pulled in close to get the tag number.
Also enjoying the Gold Coast hot bite yesterday afternoon, and with Murphy's Law out of order fishing on board on Andrew Morleys boat Express, Mat Stehmann reports an epic day going 8 from about 12 on little blacks with all fish in the 10-30kg. John Stehmann accounted for 7 of the 8 with Mat only getting to wind in number 8 due to it being a double hook up. Mat also tells me that other boats in on the action included Loyal to the Game who finished up with 7 tagged, Addixtion with 4 (including a pending Small fry record on 8) and Gods Hands tagging 5.
Meanwhile all the way through Sydney the black marlin are outshining the striped versions which are usually starting to fire at this time of year (though Ben Bright, newly arrived at Port Stephens with Capt. Scotty Thorrington's Freedom tells me the currents look promising over the next few weeks and that it should be all about to happen!)
Al McGlashan accounted for a rarer stripe for yankee Rach on her birthday (Happy Birthday Rach!) switched beautifully in close in 30-60 fathoms while many more enjoyed action on the blacks (photos at top.)
2015 28th Shimano ~ Sylvania Marina Bill Heyward Memorial Tournament – Tournament Report
Held over the Australia Day long weekend: A total of 166 anglers and 39 boats were met with great weather on both days, with warm 24 to 27 deg water. And a total of 15 marlin were tagged (6 blacks and 9 stripes) and 2 blue marlin captured along with 2 tiger sharks an a lot of 8 to 20kg mahi mahi.
The Bill Heyward trophy went to skipper Bill Heaton and crew onboard Take Time with 166.5kg blue marlin on 37kg late on the Sunday afternoon.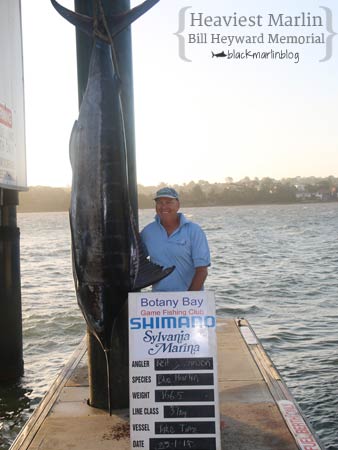 The Champion Boat Capture trophy went to Broken Bay GFC boat Carnage from Port Hacking GFC boat Scirocco.
Champion Boat T&R went to Botany Bay GFC boat Nic-Nat tagging 1 black an 2 stripes from Sydney GFC's Smartbill with 1 black and 1 stripe.
Heaviest Shark went to Broken Bay GFC boat Carnage with a 331.50kg tiger shark on 15kg line.
Most Sharks Tagged went to Port Hacking boat Dark Horse with 4 sharks
Heaviest Other Gamefish went to John McDonald on Botany Bay GFC boat Beer Belly with a 19kg dolphin fish on 10kg line.
President Ameen Ayoub would like to thank all skippers an crew for competing in the tournament!