Lake Macquarie Big Fish Bonanza
The club has made available the point score results from the annual Big Fish Bonanza on the weekend (and so if you speak 'points' they are here).  While the fishing was tough overall for the 31 boat fleet, there were some teams getting in on the action. T&R Winning Boat Rackem 'Up (Newcastle PS) also accounted for Champion Angler and Most Points T&R Marlin for angler Brent Ballenden with Brent accounting for two marlin tags and the team also taking the Champion Boat >8m.
Thanks to Claire Jones who sent me this beautiful pic above of Matt Stone's fish on Cazador.  Claire tells me that while they only got a few dolphin fish and not big enough to weigh, it made for a very tasty BBQ!
Sunshine Coast
I put feelers out yesterday to see if any heavy tackle blues had been caught off the Sunny Coast in the leadup to the Sunshine Coast Classic this weekend (which comprises of both light and heavy tackle divisions) and then two things happened. 1. The tournament has unfortunately been postponed due to weather. The new dates are 19-22 February. Mark those in your calendar.
And #2 John Dwyer sent me some pics from a blue on Ymer on the weekend.  John reports that Ymer went wide on Sunday for 2 dollies and a little blue marlin.  The skipper was Steven Brooks with Ben Stasiak was on the rod and Matt Withers and Mark Bird sharing tracing duties (and John on the camera! Always beautiful pics thanks John.)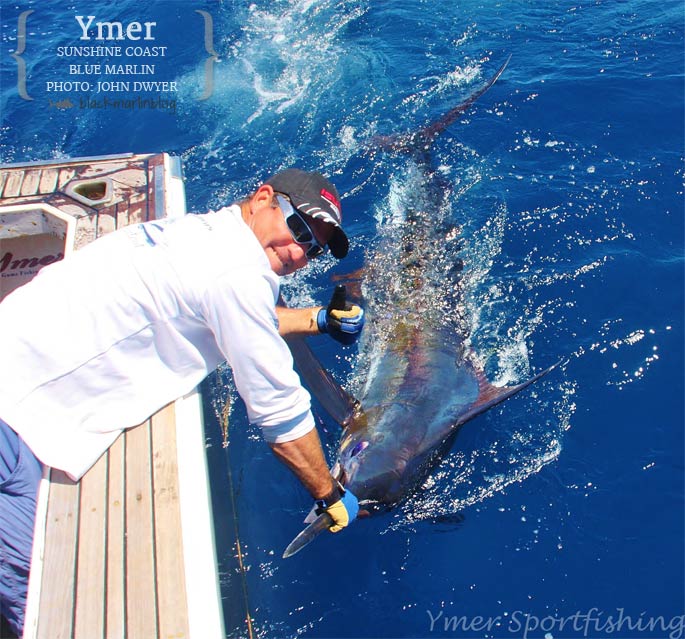 Gold Coast
And the catch up reports from the Gold Coast don't stop either. There were certainly many enjoying the action before the weather moved in. Jesse Hill tells me that they went 13-13-9 on some small and some not so small black marlin fishing on Dimitri's Estate on the weekend and lost a few more on bait jigs and the like. This great action photo below was taken by Aaron Concord who was fishing near by on Mabuyu who I heard also released 3 from 3!