Well these are the results! Breaking it down: Champion Club T&R went to Sydney Team 2 (Gale Force, Casey, Hoodlum) from Broken Bay Team 1 and Port Hacking Team 3.
Champion Club Capture went to Newcastle Port Stephens Team 2 (Public Enemy, Critakill, Climax) from NPSGFC Team 4 and Sydney GFC Team 1.
For the boats themselves, less than 10,000 points (essentially one marlin) separated the leaders with Grommett coming in on top from Hoodlum and Born Free. And plenty more familiar faces among the top boats.
John Wise on Hoodlum won Champion Angler T&R with 12 marlin.
A great effort for young Corey Radford with his 67.8kg black marlin (pictured) caught on 10kg line fishing on his dad's boat Climax (NPSGFC). This is his first marlin and now a pending NSW and Australian record to a small fry angler.
Corey also won highest point scoring capture – junior/small fry for this fish. Well done Corey!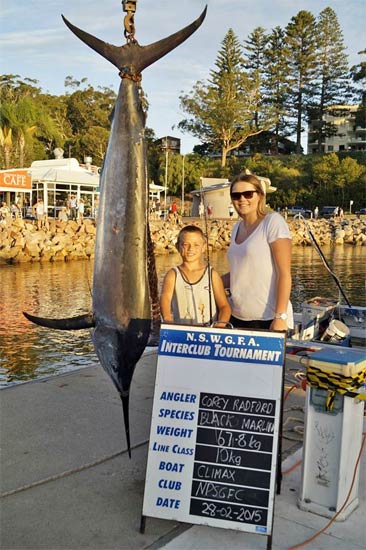 Photo by Claire Jones.
The full list of trophy winners are available here as well as a summary of the categories is here.
Apologies for the lack of detail but unfortunately the published results didn't leave me much to work with. While last weekend I manually counted fish from the results, the result this week didn't include that so if I had to hazard a guess from the point scores I would say that the Champion Boat Grommett won with 16 or 17 tags in the four days. If anyone would like to correct me, I would love to know! I have asked the committee so hopefully a bit more information coming soon.