If you are on the newsletter list, you will have already read about the Soldier On Deep Sea Roundup, organised by Capt. Tim Dean (Calypso) that was hosted out of Port Stephens on February 26.  11 boats hosted 40 returned servcie men and women. The event will be back bigger and better in 2016 with Capt. Tim telling me of plans to have 20 boats hosting up to 100 returned service men and women for a day of fun and fishing on the water.  Read the details of this year's event in the newsletter.
Tim told me that everyone stepped up and he didn't receive a single no when it came to organising the day on which they enjoyed some good fishing great weather — topped off by a flyover from the RAAF F18 jets after cease fishing.
Solider On is an organisation supporting Australian service men and women who have been wounded, physically or psychologically in contemporary conflicts.
The Solider On Deep Sea Roundup will be held again in 2016 in February (likely) date to be advised. If you are interested in being involved in 2016, email Tim.
Coffs Hot
Also in the newsletter, a few tidbits from Coffs who are enjoying the blue marlin action in the leadup to the Solitary Islands Heavy Tackle Challenge.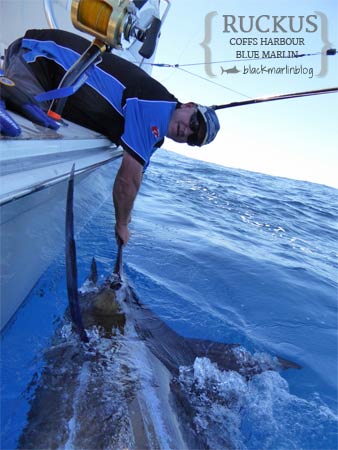 Rick O'Ferrall told me that only three boats fishing raised 13 blues, hooked 11, and tagged 8 with Ruckus being the standout, going 4 from 7. Stickybeak got the conversion prize at 3 from 3, including one that measured up at a healthy 530 pounds beside the boat. While Rick's Foreign Exchange also tagged 1 from 3.
I heard from Justin Squires (Wet Line Adventures) on board Ruckus too, who sent me the great shots above and right. Justin said that for them, the past two weeks fishing off Coffs has been exceptional.
On this trip on Thursday they had 2 clients from Whyalla on board hoping for their first blue marlin. Check! All the fish ranging from 110 to 160kg and were caught on lures and released happy and healthy.  Justin also told me that one of Sticky Beak's blues was estimated at about 240kgs and was nearly the same length as his trailer boat!
This weekend's tourneys include the Back to Tanga and Surfers Paradise All Tackle, All Species – so very much looking forward to hearing how the competitors fair.
I'm on the boat and traveling and will be in and out of range over the next few days. Updates when we next have service!