Conveniently we are just traveling past Lockhart River in the north and telephone service just in time for a quick Monday morning report! So here it is:
Capt. Tim Dean's Calypso, switching to Brad Curtis on the wheel, went 6 from 8 black marlin inshore yesterday to put them on 99 (and not out) marlin for the season with plenty more in it!
MBGFC Garmin "Back 2 Tangas 7"
The Morteon Bay GFC's Back 2 Tanga 7 was held over the weekend and Nick Currey kindly sent me the report.
The tournament was hosted over the weekend from the club's Moreton Island club house and attracted a fleet of 29 boats including teams from the Gold Coast, Little Ships Club, Redcliff, Mooloolaba and Sunshine Coast GFC's – and a total of 78 senior male anglers, 10 senior female and 14 juniors.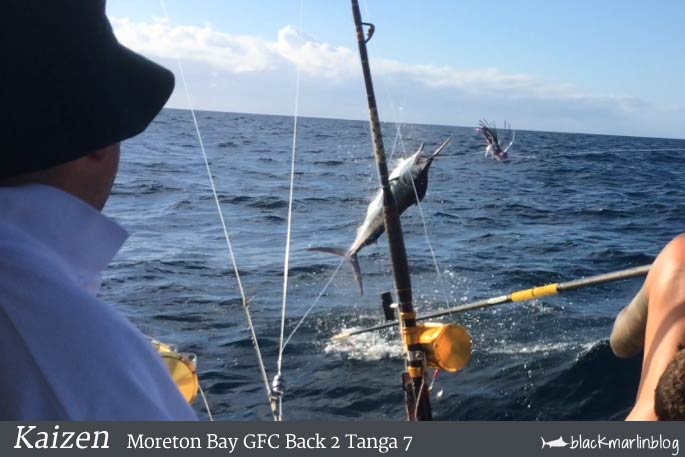 The recent hot blue marlin bite off the Gold Coast lured many of the fleet who elected to fish south with the rest of the fleet on the grounds of Cape Moreton. Captain Russell Caporn's Kaizen was the only boat electing to fish NE of Barwon Banks and in lumpy conditions, celebrated that decision by tagging the first marlin and went on to tag 1 black and 3 blue marlin on HT for Team Shamrock for the day. Wayne Thompson's Team Garmin, also tagged a small black on 37kg.
Meanwhile down the Gold Coast the Blue bite seemed to have shut down, with a few boats raising fish but also dropping them and Brad Glenn on Razo tagging a blue. Under Cape Moreton the boys found a school of micro marlin about 500-600mm long that were hungry and tagged several. Sokia hooked a huge blue on 37kg and fought it for 4.5 hours and ended up on sunset for 20 minutes before it broke off at 7:15pm into the night.
Stats on Day 1 were; 30 strikes, 21 hook-ups and 11 fish tagged or boated.
Day 2 saw better weather and Kaizen called in another black and a tagged dolphin fish. Megan Thompson on Team Garmin also caught a blue on 37kg to take the ladies lead. A few more bites down the Gold Coast saw Razo and Galaxy 11 both tag blues. Up at the Cape, Sophie Currey tagged a micro black on Aluhra as did Tony Ford on In Disguise.
It was another good day with 35 strikes, 21 hook-ups and 14 fish tagged and landed.
For the tournament all up, there was a total of 13 marlin tagged including 6 blacks and 7 blues with the Champion team award going to Captain Russell with Team Shamrock Civil on Kaizen in a convincing win with 5 marlin tagged.
Many thanks to all the teams who participated, the sponsors, committee and members who volunteered time to help out preparing great food and support during the tournament. With "Full House" band rocking well into the early hours and bar open, there were a few slow starters for Sunday morning presentation.
Final winners list:

Champion Boat over 8m Kaizen
Champion Boat under 8m Razo
Champion Male Angler  Clinton Huff
R/Up Male Angler  Brad Glenn
Champion Female Angler Megan Thompson
R/Up Female Angler Sophie Currey
Champion Junior Angler Max Proctor
Champion Angler –Other species Troy Proctor
Champion MBGFC Angler Clinton Huff
A quick note from Lachlan Tuckwell who was on board (and sent me the picture above) and on deck for Russell with Ben Kelly. Lachlan said they had a great comp and put anglers Michael Ham and Lam Dein Dang onto their first blue marlin at 450lbs a piece while Clinton Huff caught his first blue at 300lb and first two blacks at 60lb and150lb. They notched up 5 from 11 for the weekend.