The Surfers Paradise GSFC held its (initially weather-postphoned) All Tackle, All Species tournament over the weekend.  Unfortunately though with the number of boats on the water high due to the ATAS and also boats fishing in the Back 2 Tanga, the bite was considerably slower than it has been over the past few weeks.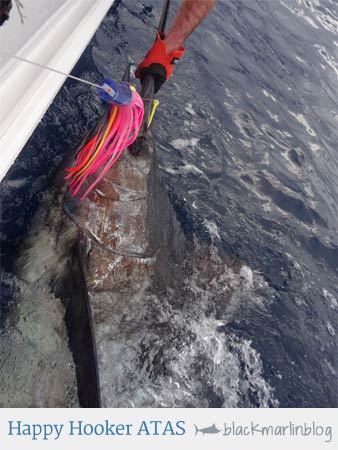 Still some great results. Nick Hanlin from on board the winning team (over 7m) Team Simrad on board Predator, sent me the pic below of them in action fighting one of their 3 tagged blues for the comp.  They also fought another bigger fish for over 2 hours on Sunday unfortunately pulling the hooks 30m from the boat.
Nick tells me they are fishing this weekend's Solitary Islands Heavy Tackle comp so we look forward to hearing how they go (below).
Happy Hooker was champion boat under 7 m Heavy Tackle (and thank you Jaco Erasmus who sent in this pic of their blue marlin on the Saturday) while Kanyana, was Champion Boat other species.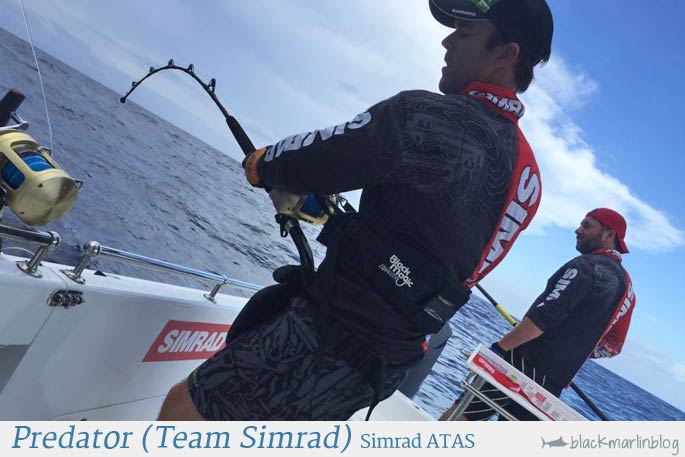 Coffs Harbour
Meanwhile at Coffs, Rick tells me there is no sign of the bite slowing down.  Every boat out there is raising blue marlin regardless of weather. But the conversion rate is the same as the GC boats have been enjoying ( :-) ) Ian Kemmis' Juggernaut went 8-4-1 on Friday, while all the other usual suspects including Black N Blue, Better than Vegas, Ruckus, 666, and Sea Devil came in with last least one tag from multiple hookups over the weekend.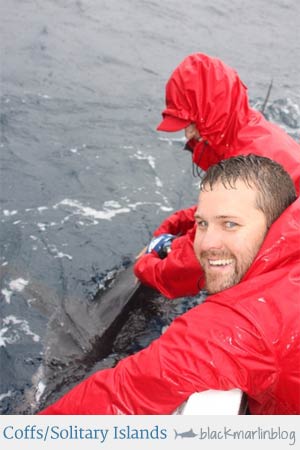 It continued through Sunday, with every boat that could find some heavy tackle out there trying their luck. Rick tells me that one raging optimist who shall remain nameless actually threw a 15kg rig in the water in blue marlin country on the deep side of the shelf, and inevitably got a hookup followed by the equally inevitable spool job!
On Monday, only Black N Blue went out, but did nicely at 5-4-3 after a squally start to the day. At one stage, Rob Lang had a lucky escape when his long rigger line got tangled around the rod tip… he was retrieving the line hand over hand when Murphy's Law delivered a big blue marlin that smashed the lure just as the line took a triple wrap around Rob's hand! Fortunately, he threw the line around something and managed to bust it off just as the fish headed for the horizon at speed and managed to avoid the multiple finger guillotine job by a fraction of a second. The lure went bye-bye with the fish though!
Photo: Nigel Watson with his blue marlin from Sunday – still biting even in the lousy rain and nasty swell.
Solitary Islands GFC's Heavy Tackle Challenge this weekend.
Bermagui
Report from Murray Stoddart (aka Muzza) who fished Bermagui last week on Bill Collector for a few days. Murray says that although the fishing wasn't spectacular it was consistent with most boats getting a fish or two a day with the fishing good from Tuross down to Eden. The current was pushing pretty hard keeping the bait deep most of the time making the tide changes very important as most bites occurred during these periods. The 'Kink' and the bait hole and 12 mile all saw some action. Picture below was caught by Brett Hooper on 24kg tackle in a 30 knot North-easter late on last Tuesday afternoon.  Also on board enjoing the action were Paul Nemes (Bones) and Bob Weight.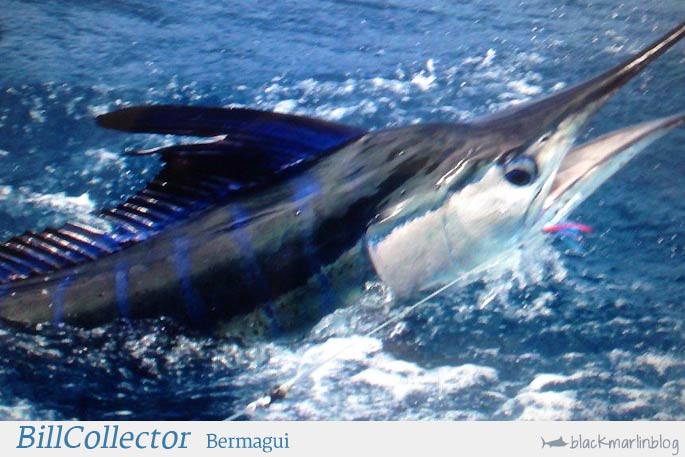 Cairns
And lastly a video from Cairns Giant Black Marlin Season 2014 on board Little Audrey from Capt. Daniel Carlson.
Bring on Cairns 2015!