The weekend's fishing has once again put the Gold Coast on the blue marlin map with several boats reporting memorable days on the water.
On Saturday, Capt. Ross McCubbin wrapped up his season, before jetting off to Darwin for the barra, with one from two blue marlin putting him on a final tally of 131 marlin since December 1st (made up of 109 blacks and 22 blues).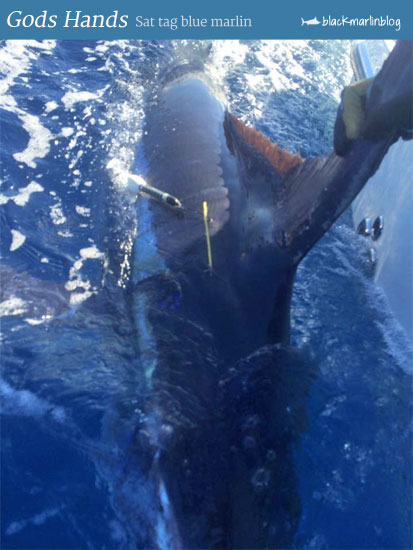 Also on Saturday Jesse Hill and the team on Jugs found a honey hole of fish finishing up 4-4-1 blues off one bait school. Jesse tells me they unfortunately dropped 2 at the boat and had one double hookup.  They had a sat tag to deploy but elected not to, looking for a better fish.
One who did deploy a sat tag was Ryan Goding and team on Gods Hands who put the tag in a fish estimated at 150kg (pic).
Look forward to hearing about its travels in the future!
This all follows up from Friday with Garry Holt's French Look 3 switching 6 fish record fishing. They lost 2 on the leader and weighed one, a potential Australian record for James, at 170.5kg on 8kg line. Well done James!
Ben Colvin was at the wheel of Steve Dearnlys, 40 Cabo Pisces with 1 blue marlin off Point Lookout on Saturday.
On Sunday they followed up wide of the Gold Coast Sunday for a 5-4-4, 3 of which were bigger than average fish.
Ben says that yesterday (Sunday) they also had a bunch of other well-known boats fishing around them (including Kestelle 2, Capt. Russell Guage on Too Easy, Capt. Bill Billson on Viking) and that they all had 4 or 5 bites as well. Ben estimates from the radio chatter about 50 bites from  the 7 boats fishing the area!
Bad timing with the great fishing and weather for the recent shootout, but all attention this weekend goes to Port Hacking's Shimano 100 Tournament with teams also seeking big blues.