North Queensland was another write-off due to the appalling weather.
On the Gold Coast it's the season that never ends and keeps producing!  There is a bit of club-level healthy competition happening with the Queensland point scoring season ending today so we'll keep the awesome fishing secret one more day. But several boats have been having good number encounters over the past week particularly in the leadup to the cutoff.
Capt. Ross McCubbin tells me that the fish are mainly blues with a few stripes mixed in and that there are plenty of sauries and gannets in 300m with the fish all around them!
Down south the tuna reports are incoming as well. Merimbula based Head Hunter captured two nice bluefin at 50kg and 75kg and released two more around the 50kg mark on Sunday. Nathan also reports other local boats in on the action with Reel Jem starting the ball rolling on Wednesday with two at 94.5kg and 60kg as well as a 59kg yellowfin.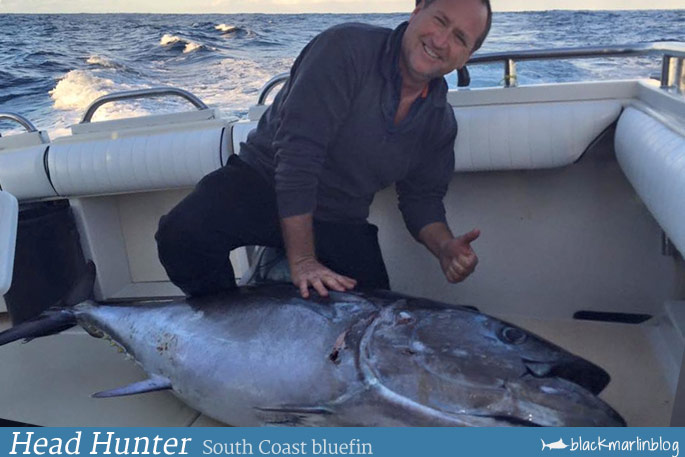 Over in the west, the action never stops. Exmouth GFC has just wound up their annual Reef Fishing Classic but that doesn't mean the local charter operators have let up on the billfish.   Peak SF's Eddie Lawler had Dutch angler, Ingmar Boersma on board on Saturday and went 2-2-2 on black marlin which followed up from a 4-4-4 the day before (1 black marlin and 3 sailfish).
Meanwhile off Broome, Makaira GF's Jeda Ellens has been hitting the sails. As we saw they went14-11-8 on Wednesday and 8-6-6 on Thursday including some double header action (photo below). On Saturday they finished up a trip with regulars the Czabyaski family (here's a report from their trip last year – a bottom). Jeda reports the boys tagged 6 from 7 sails in the morning then they put a potential WA record sail for junior Sam in the boat that went 25.02kg on 8kg line. (Update: top day with another 12 releases yesterday!!)