I knew there was a battle on for the end-of-club year point-scoring but but talk about going down to the wire with some absolutely crazy awesome June winter fishing.
(Warning, pun ahead!)
It's the Sunshine Coast vs the Gold Coast in a epic SEQ battle. And the winner is… Queensland fishing!
With the end of month, out came the previously secret reports from the Gold Coast's never ending blue marlin bite.  Mat Stehman's Murphy's Law tagged a total of 9 fish in their last 3 days of fishing (4 stripes and 5 blues).  Their last blue of the season went to Sunshine Coast committee member and one of the leading point-scoring anglers for the SGFC club Michael Lassen, which Mat put at an easy 180kg.
Mat tells me there were also more then 50 fish seen over the last 3 days, but the stripes played havoc with all the boats bringing in some terrible conversion rates.
We're still expecting Murphy's Law's total season tally which he expects to be around the 100 fish mark, but in the meantime, plenty of other Gold Coast-ers have been posting some awesome numbers. Jesse Hill who spent his season dividing his time between Jugs, Dimitri's Estate and Mabuyu, tells me his end of year tally was 168-142-89 which was made up of 24 blue marlin and 65 black marlin from only 43 trips, 4 of which were donuts.  (Just to clarify, Jesse's tally is not his as angler, but rather boat totals from when he has been on board various boats this season – a great reflection on the Gold Coast season).
And on the light tackle record hunt, Garry and James Holt and their support team on board French Look III switched (with either the fish eating the bait or hooking up) to 62 blue marlin and over 50 blacks as well as 1 sail and 1 stripe.
Then, on the Sunshine Coast…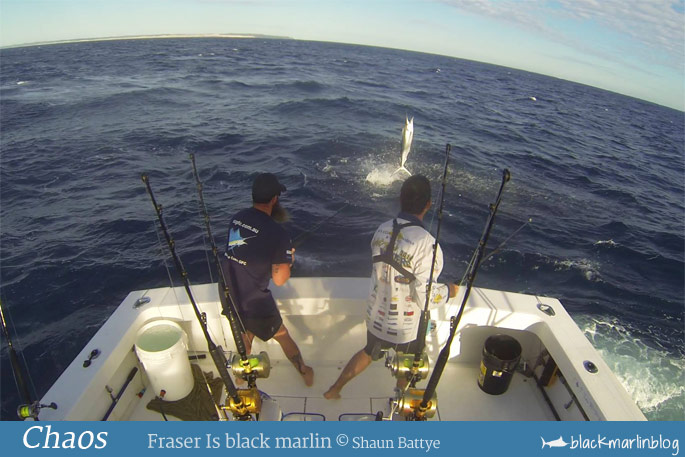 Sunshine Coast GFC Club Captain Brent Higgins reports that their club members have been responsible for 31 juvenile black marlin tags in June (in JUNE!!) and at the front of the pack is Jay Graham's Chaos (which we last saw at Cape Bowling Green last year on it maiden journey home and just fresh off the ship!)
And now their secret is out too! In the last trip alone fishing off Fraser, Jay and his crew added another 19 black marlin to their season tally (4 on Wednesday, 5 on Thursday, 10 Friday last week) bringing them up to a season total of 103 billfish for the season. That's 6 stripes, 81 blacks, 15 blues, 1 sailfish (plus another DQ black that ate two baits). And that's on top of the previous 12 (yes the entire 31 juvie black marlin tags belong to Chaos!) from a previous trip.
Jay said although it paid off in the end, the Fraser trips also involved a fair bit of work (and play I see!) They did a total of 9.5 days fishing with it taking him a couple of days to find the fish.  They also did two days heavy for just the one raised fish that didn't bite.
Jay also said that most of the juvies were between 3 and 9kg and that it was mostly a morning bite, averaging 8-12 bites a day.   When they found it the bait was top to bottom for a few miles consisting of yakkas, pillies and herring. Last Friday they fished just the 5 hours until the weather got really bad and went 15-12-10 switching on 6kg line!
Jay has previously found the juvies at Fraser in June (on Kamikaze in 2013) so was confident they would be there.  And they were!
Club Capt Brent reports that what makes the Sunshine Coast numbers even more impressive is what an inconsistent year it has been.  Looking back myself over the numbers on the DPI books it was back in 2012/13 that the Sunshine Coast boats last had the battle going right down to the wire (and over the 100 fish mark) between Reel Capture and Kamikaze. Updated: Last year it was Paddy Diamond's Cat-a-pult and the 5m trailer boat Misty that ended a tight end-of-season tussle on top in the vicinity of 89 tags with only line class points separating them with Reel Capture third.  [Thanks to Rob Smith for refreshing my memory with reference to my own report! The SCGFC teams certainly do a lot of fishing and know how to make it competitive within the club with it going down to points again and again, year after year!]
Some photos above and below from Shaun Battye of the little black marlin action!